What Causes Dark Marks on the Face? (with pictures)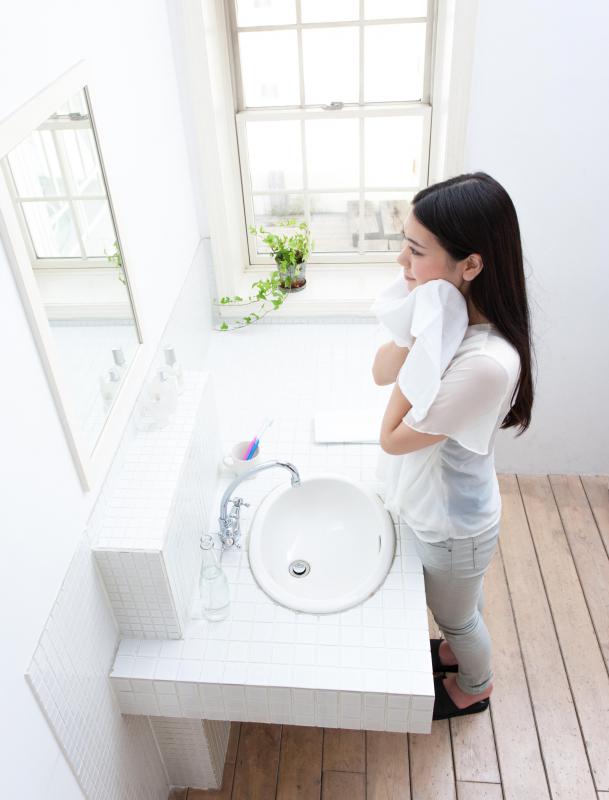 Sunlight exposure, the aging process, heredity, hormone fluctuations, and post-inflammatory blemishes are the most common causes of dark marks on the face. Skin pigmentation marks are especially prevalent in individuals with fair skin that tends to become easily sunburned, and these types of marks typically form when melanin collects in one concentrated area. Spots can often appear as freckles in light-skinned younger children who spend a good deal of time outdoors in the sun. Many adults develop dark marks over time as their skin begins to age, and the most effective treatment generally involves a set of lifestyle-based preventative measures.
Dark marks on the face can range in size from small flecks to noticeably large patches that can lead to increased self-consciousness. Larger areas of skin pigmentation marks often tend to run in families with histories of extra sensitivity to ultraviolet rays from the sun. The natural skin fibers of elastin and collagen are usually more vulnerable to sun damage in such individuals, causing their skin to lose its suppleness at a quicker rate. This breakdown process can easily trigger the overproduction of melanin as part of the skin's natural defense system, which generally results in visible dark spots.
The human body contains a set of hormones that naturally regulate many different internal processes, including skin pigmentation. Some women who are particularly sensitive to hormone fluctuations due to pregnancy or contraceptive use can develop dark marks, although these are often temporary, evident only until the body adjusts to the different hormone levels. Regular use of a broad spectrum sunscreen is often the simplest way to keep these spots from becoming even darker. Some dermatologists report that cigarette smoking, insufficient hydration, and a high fat diet can also contribute to the development of this hormone-related skin pigmentation.
Lighter reddish-brown marks can often develop in individuals who are prone to acne blemishes. Some types of nodular and cystic acne can frequently leave these kinds of dark marks on the face known as post-inflammatory hyperpigmentation. These marks often fade on their own within a few months, as long as they are protected from the sun.
Other types of treatment for more severe dark spots include specialized facial cleansing regimens with products containing skin-lightning ingredients, such as tretinoin or kojic acid. Some of these products are available over the counter, while others may require a prescription. Home remedies for dark spots can include facial masks made from mixtures of lemon juice, honey, onion, or oatmeal.
Certain facial cleansers can be used to reduce the appearance of dark marks on the face.

Some skincare products are tailored to alleviate dark facial marks.

Dark spots on the face are often caused by sun damage, which can be prevented by using sunscreen.