What can I Expect After Bunion Surgery?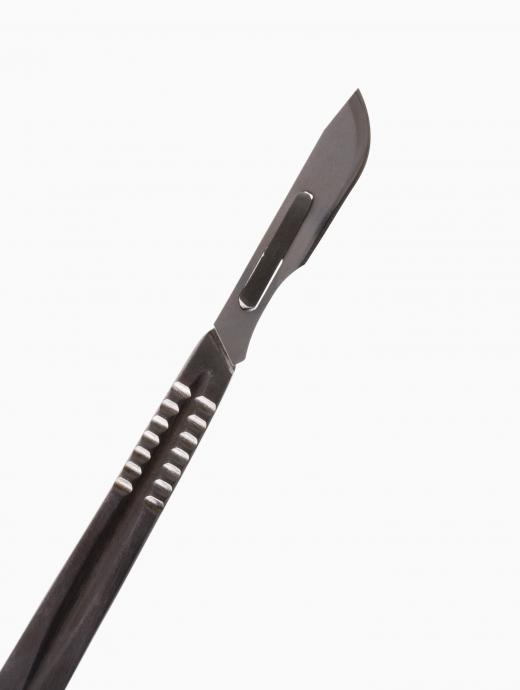 In most cases, bunion pain and discomfort can be relieved with home remedies, a change in footwear, and medications. Surgery is discouraged unless all other types of conservative treatment fail to ease symptoms. There are several different types of bunion surgeries, and podiatrists can help their patients choose the best methods based on their particular problems. Depending on the nature of the surgery, a patient may need to spend anywhere from six weeks to six months in recovery. A person can expect to wear a cast or orthotic shoe, get around with the help of crutches, and avoid physical activity for several weeks after bunion surgery.
A patient who undergoes a relatively simple procedure that involves cutting away a small section of bone and cartilage from the big toe usually has a quick recovery after bunion surgery. The foot may be wrapped in a protective bandage or fitted with a plaster cast to prevent accidentally hitting or moving the toe. A cast is usually worn for about two weeks, after which the doctor can remove it, inspect the joint, and take out the stitches that were used to close the surgical wound. The doctor typically prescribes topical antibiotic ointment and oral pain and anti-inflammatory medications to help ease symptoms and avoid complications.
In the next few weeks after bunion surgery, the patient generally needs to keep the toe well protected with bandages and comfortable, supportive shoes. He or she may be instructed to get plenty of rest and use a crutch when moving around. Putting weight on the toe before it is fully healed can aggravate the joint and cause pain, inflammation, and possibly major damage that requires additional surgeries to correct. Icing the toe and keeping it elevated generally help in reducing swelling and providing a faster recovery time. By following the doctor's orders, a person can expect to return to normal activity levels in less than two months.
Some very large, persistent, debilitating bunions require more extensive surgery and longer, more difficult recovery periods. If the surgeon has to fuse the toe joint together or replace it with an artificial joint, it may be impossible to bear any weight on the foot for two months or longer after bunion surgery. Pain may be prominent for several weeks after bunion surgery, despite protecting the toe with a cast and taking prescription medications.
Once the toe starts feeling better and the podiatrist decides that healing is sufficient, a person can slowly return to activity. It is essential to follow the doctor's instructions about gradually increasing activity levels and stopping abruptly if pain increases. A patient may need to invest in custom orthotic footwear and attend physical therapy sessions for several weeks to ensure a full recovery.


By: iofoto

A scalpel is a small, sharp knife that is used in surgeries to make incisions.

By: Photographee.eu

It can take up to six months to recover from bunion surgery.

By: Coprid

Doctors will usually prescribe a topical antibiotic ointment to be applied after bunion surgery.

By: phil2865

Wearing a cast for two weeks following bunion surgery is common.

By: AVAVA

A person will likely use crutches to get around after bunion surgery to avoid putting any weight on the foot.

By: Monika Wisniewska

Before advising surgery to remove a bunion, the podiatrist should pursue non-surgical alternatives.