What can I do About TMJ Pain?
Temporomandibular joint disorder (TMJ) is a medical term used to refer to inflammation of one or both joints that connect the mandible, or jaw, to the skull. The condition is characterized by pain, specifically referred to as TMJ pain. Symptoms may be acute or chronic and may hinder the ability to speak, chew food, make facial expressions, or even breathe. In addition, TMJ pain and inflammation often migrates to other areas that may serve as trigger points, such as teeth, underlying connective tissue, and nerves. For this reason, TMJ is often associated with a larger scope of disorders known as myofascial pain syndrome.
TMJ can be caused by a variety of oral behaviors. For instance, constant gum chewing or nail biting can repeatedly thrust the jaw too far forward or sideways. Poor speech patterns, or neglecting to see a dentist regularly may also be to blame. In addition, the temporomandibular joint is susceptible to disorders that affect other joints in the body, such as arthritis. However, the most common cause of TMJ is bruxism, a condition that involves habitual clenching of the jaw and/or grinding of teeth.
Whatever the cause, the pain can be constant and severe. Pain may not only be felt about the jaw and face, but may extend to the ears as well. Fortunately, the best way to relieve the pain is to cease the behavior that created it. Of course, this may not apply to TMJ pain associated with misalignment or injury to the jaw. However, even in those cases, there are still several self-care options.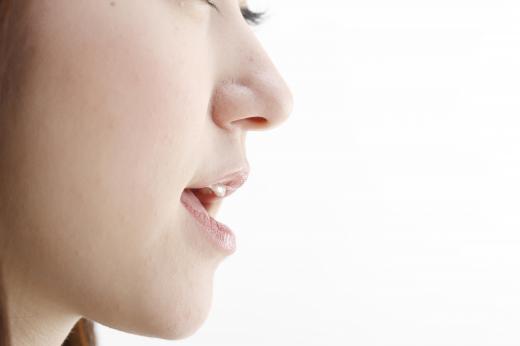 Applying moist heat to the affected area is helpful for many people. Alternatively, holding an ice pack to the area may help to reduce inflammation. Consuming soft foods and avoiding stretching the mouth during flare-ups will permit the jaw to rest in its natural position. Relaxation techniques can also help to reduce TMJ pain associated with bruxism. A simple exercise along this line is to practice gently blowing air between slightly parted lips, being careful not to allow the upper and lower teeth to come together.
At times, taking over-the-counter non-steroidal anti-inflammatory drugs may be necessary to quickly reduce inflammation and pain. These non-prescription medications include aspirin, acetaminophen, ibuprofen, and naproxen. Tricyclic antidepressants, such as amitriptyline or nortriptyline, have also been used to successfully manage TMJ pain. However, these medications must be prescribed by a physician and may produce unwanted side effects, such as drowsiness.
In extreme cases, implant replacement of the joint(s) of the jaw may be warranted. However, be aware that experiencing pain alone is not usually a decisive factor for having this procedure done. In fact, it is usually reserved for those who have undergone extensive trauma or injury to the jaw.
It should also be noted that there is no regulatory authority or certification that governs the treatment of TMJ disorders. In short, this means that neither the American Dental Association (ADA) nor the American Medical Association (AMA) acknowledges the treatment of TMJ disorders as a specialty in either dentistry or medicine. Obviously, this can make locating a qualified practitioner difficult. However, the best course of action is to consult a dentist and discuss a referral to a practitioner experienced in musculoskeletal and myofascial disorders.
AS FEATURED ON:
AS FEATURED ON:

By: Monkey Business

Nail biting can lead to TMJ pain.

By: sakura

A person with TMJ.

By: Kimberly Reinick

An ice pack can help with TMJ pain.

By: guysagne

Anti-inflammatory medications are used to relieve pain.

By: 9nong

TMJ can cause mouth and ear pain.