What can I do About Shoulder Popping?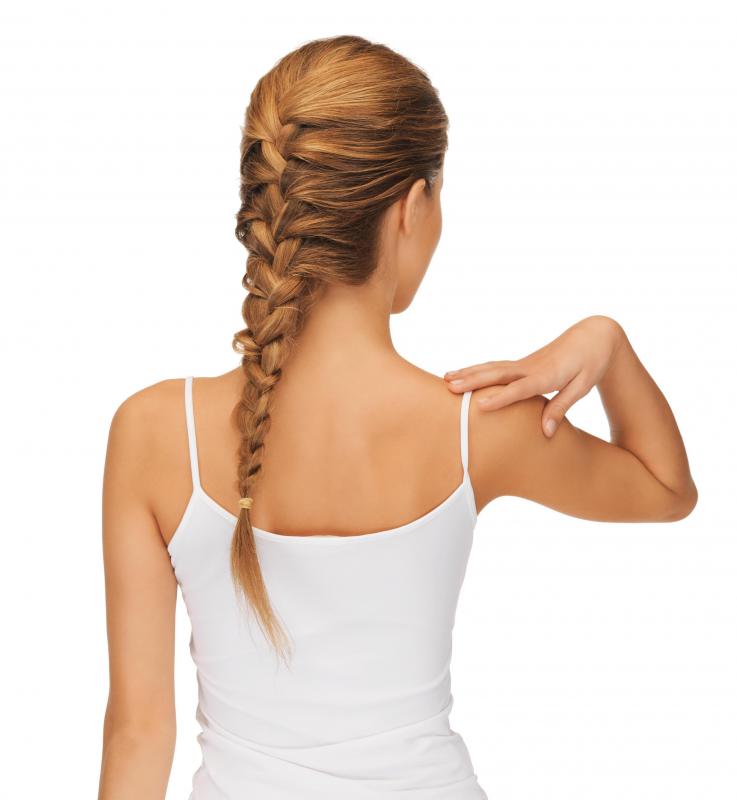 Shoulder popping occurs for a number of different reasons. Thus, the best way to find out how to stop shoulder popping is to determine the cause of the problem. Inflamed muscles, tendon movement, postural problems, broken bones, arthritis, dislocation, and bursitis are all possible reasons why a shoulder may pop.
Since many of the aforementioned conditions can't be divulged with the naked eye, the best course of action is to visit with a medical professional. Through a series of x-rays and tests, a medical doctor should be able to determine the cause of shoulder popping. Broken bones, shoulder dislocation, and bursitis may all require medical prescriptions. However, pain caused by postural problems, tendon movement, and inflamed muscles can be eradicated by following a few simple steps.
First, make sure that any workspace area is ergonomically correct. Purchase a desk chair that was made to support the spinal area, and be sure that your computer keyboard is comfortably within reach. People who slouch, bend, or sit in an awkward position for long periods of time may experience should tension, which can lead to shoulder popping.
Next, give stretching a try. By joining a yoga class, or learning how to stretch properly, shoulder popping can be kept to a minimum. Frequently, tight muscles and tendons can cause a shoulder to pop, though stretching the area on a daily basis will help. Also, speak with a licensed physiotherapist about easy shoulder exercises. By strengthening the shoulder area, shoulder popping is less likely to occur.
Those people who experience inflammation and swelling due to shoulder problems should apply ice to the affected area. If swelling and inflammation occur frequently, medical attention should be sought. Some people may also find that shoulder pain develops while working with heavy weights. In this instance, a certain movement or weight could cause the shoulder to pop. If this happens, the best course of action is to stop performing any exercise that may create discomfort or pain within the shoulder area.
Whether or not popping a shoulder feels good, this action should be avoided. Continuous popping of the shoulder may cause serious inflammation and further damage. A shoulder that is dislocated is a shoulder that requires medical attention. If any of the above symptoms seem familiar, it is best to speak with a qualified doctor. This way, the root of a shoulder problem can be uncovered and fixed for good.
Shoulding popping may be the result of inflamed muscles.

Having bursitis is one reason that a person's shoulder may pop.

A series of X-rays can help a doctor determine the cause of a shoulder popping.

To avoid injury, weightlifters are recommended to use light weights and controlled movements when performing exercises such as lateral raises.

You should apply ice to your shoulder if you experience inflammation and swelling.

In some instances, a doctor may prescribe stretches and rotational movements that can help heal an injured shoulder.

Joining a yoga class may help teach a person how to stretch properly to avoid shoulder popping.

Tight muscles can cause a shoulder to pop.