What can I do About a Vitamin D Deficiency?
There are four ways to correct a vitamin D deficiency: supplements, dietary changes, sunlight exposure and digestive health improvements. Vitamin D is soluble in fat and is created by the body when the skin is exposed to sunlight. It is required to absorb calcium by the body, and low levels are related to brittle bones, rickets, and other developmental issues.
The most common way to correct a vitamin D deficiency is with a supplement. These pills are available in a range of sizes, from 50 mcg (2,000 IU) to 100 mcg (4,000 IU), and there are also slow release options available. Slow release tablets allow the body more time to digest the supplement by providing a steady stream of vitamin D over a four to six hour period.
When selecting a supplement, pay attention to the amount of active ingredient, which is provided on the label. Vitamins are unregulated and there is nothing to stop a firm from providing a vitamin supplement with a large amount of filler. Select a reputable firm and understand that the cheapest supplement may not be the best. Purchase a quality product in the middle to upper price range to ensure the correct vitamins are provided. Many people have a low tolerance for fillers, so watch for allergic reactions.
It is difficult to fix a vitamin D deficiency with dietary changes, as it is not normally found in a large amount of foods. Salmon, tuna and mackerel flesh and liver oils are the best sources. Most people obtain vitamin D through milk and other product that have been artificially fortified.
Exposure to the sun for just 15 minutes a day can generate sufficient vitamin D to meet your daily requirements. The increased concerns about skin cancer may have lead to an overall reduction to even low levels of sunlight exposure, but a little sun a day is necessary for strong bones and joints.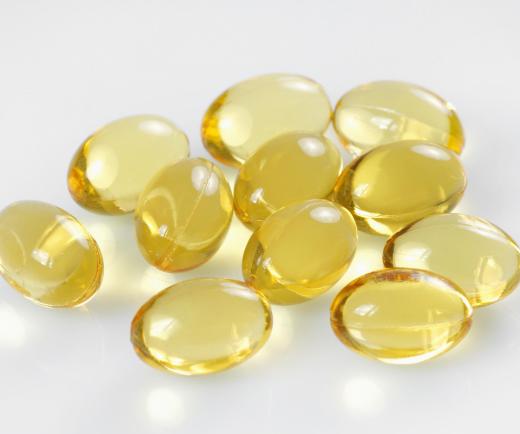 Many people who have a deficiency in this vitamin have digestive disorders that prevent the absorption of milk products. Correct this issue by purchasing lactose free milk or using lactose absorption supplements. Lactose intolerance is the inability to absorb milk and is most commonly found the black and Asian community.
If this change does not improve the situation, see a healthcare professional. Several other digestive diseases can interfere with the absorption of dairy products. Take the time to investigate, as a vitamin D deficiency affects your bone health.
AS FEATURED ON:
AS FEATURED ON:

By: karandaev

Many people get vitamin D through artificially fortified products such as milk.

By: SunnyS

Salmon is a good source of vitamin D.

By: Mara Zemgaliete

Vitamin D can be taken as a supplement.

By: yanlev

Vitamin D is naturally produced within the body when skin is exposed to sunlight.

By: ArTo

Weak bones caused by a vitamin D deficiency may make some elderly individuals more prone to falls.

By: Natalya Glinskaya

By spending 30 minutes in the sun, a person's body can make the equivalent of 10,000 international units of vitamin D.

By: inesbazdar

Lactose intolerance is a condition in which the body is unable to digest lactose, or milk sugar.

By: charles taylor

When selecting a vitamin D supplement, pay attention to the amount of active ingredients on the label.