What Are Whole Wheat Muffins?
Although whole wheat muffins resemble small cup cakes in appearance, they have the consistency of bread. Whole wheat muffins are made using whole wheat flour in place of white flour. The muffins are made from a batter that is placed in individual arched-shaped muffin cups, coated with a non-stick cooking spray before baking. Most people prefer to butter whole wheat muffins, although jam, jelly, or preserves may also be spread on top. Many variations of whole wheat muffins can be created by adding other ingredients as well, typically fruit.
To make whole wheat muffins, all purpose flour and whole wheat flour may be combined. To give the muffins a sweet taste, many people prefer to add firmly packed brown sugar. Those on sugar-restricted diets may prefer to use a sugar substitute. Vegetable oil and eggs are the ingredients necessary to form the batter and make the muffins moist. Baking powder will help the muffins rise properly during baking.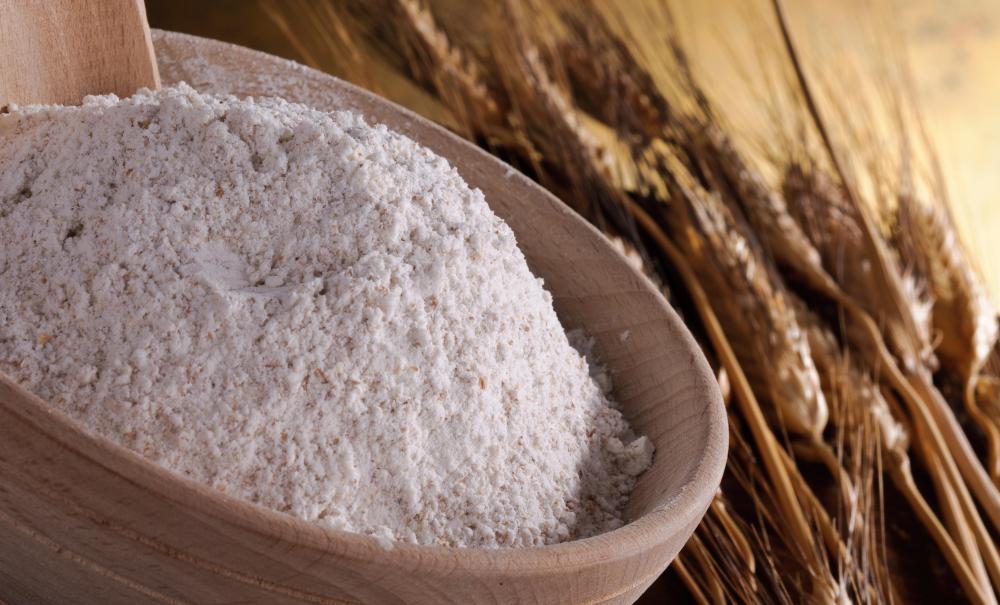 Various types of homemade wheat muffins include dinner muffins or dessert muffins. Dessert muffins are typically served with jam or butter. As a dessert however, added ingredients may give whole wheat muffins a richer and sweeter flavor. Dessert muffins will typically be prepared with ingredients such as fresh fruit or even semi sweet chocolate chips.
Popular with children are chocolate chip whole wheat muffins. These muffins may be served as dessert, a snack or a lunchbox addition. Whole wheat chocolate chip muffins may be made with semi sweet baker's chocolate chips or milk chocolate chips. In addition to eggs, baking powder and vegetable oil, other ingredients may be added, such as granulated sugar and vanilla extract.
Apple cinnamon wheat muffins are a popular choice for snacks and desserts. In addition to the traditional ingredients used for preparing wheat muffins, this recipe calls for ground cinnamon and fresh apples that have been peeled and diced. Optional ingredients that many bakers prefer are chopped walnuts or shredded coconut.
Whole wheat muffins may be baked with most any type of fruit. Fresh berries are another popular choice for adding to wheat muffins. Mixed berry wheat muffins are wholesome when made with fresh blueberries, strawberries, and raspberries. Whole wheat peach muffins are another variation, prepared with diced fresh peaches.
Some prefer to bake muffins in the microwave to save time. The traditional method however, is baking the muffins in a conventional oven. Although ovens may vary, baking muffins at 350° Fahrenheit (176° Celsius) for approximately 25 minutes is generally sufficient.