Weight plates are a type of weight lifting equipment used to add resistance to adjustable barbells and dumbbells, as well as plate-loaded weight machines. Depending on the intended purpose of the weights and the price, weight plates can be made of steel, cast iron, or, occasionally, cement-filled plastic. They are round or octagonal, with a central hole to fit either a standard or Olympic barbell. Weight plates are available in a wide variety of styles and sizes, from those as small as one lb. (0.45kg) to as much as 100 lbs. (45kg.)
Standard weight plates are usually round and are most often made of cast iron, or occasionally of steel with a soft rubber coating. These plates have a one-inch central hole to fit smaller commercial barbells or home gym equipment. This equipment is considerably lighter and easier to handle than Olympic sized barbells, and is generally a better choice for novice lifters.
Alternatively, more economical plates, designed chiefly for home use, are available. These are usually made of a plastic casing filled with cement, and will not take as much abuse as steel or cast iron plates. If using these weight plates, it can be useful to check the weight on a scale before use. There can be considerable variation between plates, as they can become uneven over time due to handling and general wear and tear.
Olympic weight plates are typically made of cast iron, and can be either round or octagonal. Some Olympic weights, known as bumper plates, are coated with rubber to protect both the weight plates and the gym floor, if a loaded barbell is dropped. Olympic plates have two-inch central holes to fit Olympic sized barbells, and larger plates often have several other holes spread out around the face of the plate to facilitate handling. These plates are most often used by power lifters, body builders, or other athletes who lift very heavy weights.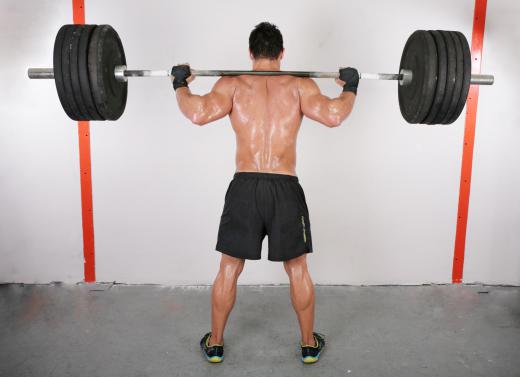 For training purposes, Olympic-sized plates known as technique plates are available. Usually made of plastic, aluminum, or similarly strong and lightweight materials, these plates fit on Olympic barbells and are sturdy enough to withstand dropping, but are considerably lighter than standard Olympic plates. These are often used in high school gyms, where safety and durability are of the utmost importance, but can also be used by competitive adult power lifters. Technique plates allow athletes to practice form and movement with a correctly proportioned barbell, but without necessitating a full training load.
AS FEATURED ON:
AS FEATURED ON:

By: Rido

Dumbbells feature weight plates.

By: sumnersgraphicsinc

Standard weight plates are usually round and made of cast iron.

By: dacasdo

Olympic plates have two-inch central holes to fit Olympic sized barbells.

By: Ljupco Smokovski

Weight plates can be attached to barbell or dumbbell bars.