What are Waterproof Binoculars?
Binoculars are a magnifying device with two eyepieces and typically are used to see things at a distance as if they were much closer. Many regular binoculars are not water resistant and cannot be used effectively in certain weather conditions. Waterproof binoculars allow outdoor enthusiasts to have optimal visual improvement in almost every environment. They work to prevent visual hindrance from rain, snow, leakage, high humidity, mildew and fogging. Many people who go boating, camping, hunting, hiking or bird watching believe that waterproof binoculars are an essential tool to have.
While many binoculars have rubber casing and rubber exteriors, they are not water-resistant and can succumb to fogging up and leaking. True waterproof binoculars typically have rubber O-rings and are dry-nitrogen purged to prevent fogging. Some sets are camouflaged for hunters, and some are bright colors, such as yellow, to make them easier to locate in foggy or rainy conditions. There are many sizes and strap lengths as well.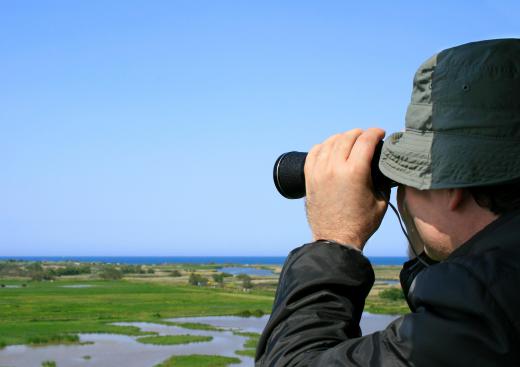 For marine use, there are specific waterproof binoculars available. They typically are up to 7x magnification and have a wider field of view (FOV). Many users find this helpful, because the leak protection can make it difficult to focus waterproof binoculars. Some sets also have range finders, which assist the user with determining distances.
Some models are offered with a center focus feature and individual eye focus features. Center focus is used for viewing things both close and far away, and individual focus is used for viewing things at medium and long distances. Many marine binoculars come with built-in beta lights, for sailing at night, and compasses. Compasses give the user a basic idea of direction and allow the user to pinpoint an exact bearing and share it with other people.
When waterproof binoculars will be used both day and night, they generally should have a large objective lens to use in poor lighting, twilight and nighttime. There also are stabilized binoculars that assist in keeping steady images even during rocking motions, such as those caused by waves or traveling over rough terrain. Many marine binoculars have a porro prism, and the compact versions typically utilize a roof prism.
Waterproof binoculars usually have ergonomic grips to aid comfortable use and to help prevent drops. There are several manufacturers that make different types of binoculars in many available models. The average price of a casual set costs about $100 US Dollars, and the more advanced types cost between $200 US Dollars and $400 US Dollars or more. Most can be purchased at outdoor sportsman stores or on the Internet.
AS FEATURED ON:
AS FEATURED ON:

By: Marlee

Waterproof binoculars are essential for bird watching.

By: NatUlrich

Some waterproof binoculars are designed with a wider field of view, which many users find useful.