What are Watercress Greens?
Watercress greens, formally known as Nasturtium officinale, are a type of aquatic plant found in many parts of the world. A member of the mustard family, watercress greens have dark green crunchy leaves with a crisp mustard-like bite that adds a level of flavor to food whether used as a starring component or as a garnish. When harvested for food, watercress is collected before the delicate white flowers and green seed pods appear, because the leaves will grow woody and flavorless.
Watercress greens commonly grow along streams, ponds, and ditches, and can be found in standing water as well as growing on muddy ground. When watercress grows in the water, the leaves trail across the surface and provide shelter to other forms of small aquatic life. When watercress is found in mud or damp soil, the plant tends to creep like a vine. The edible leaves resemble feathers exploding from a central point at the root of the plant, and the flowers appear in clusters in the middle of the plant in season, which varies depending on where the watercress is growing.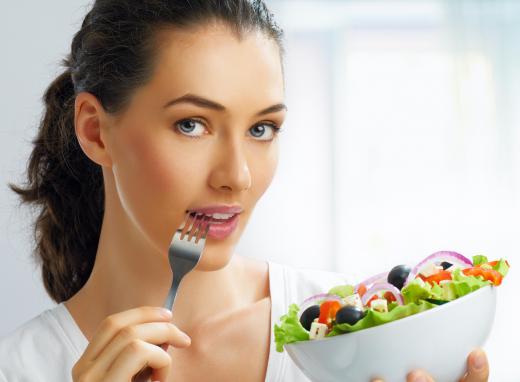 Watercress greens have been eaten by humans for centuries: writings of both the Romans and the Ancient Greek document the consumption of watercress by all classes. Since it can be found growing in the winter, watercress was often served when other options were not available, and because it is plentiful, watercress greens were eaten most heavily by the lower classes, who might not be able to afford other foods. Like other leafy greens, watercress has lots of iron, calcium, folic acid, and vitamin C, making it an excellent nutritional supplement.
In Western cuisine, watercress greens are usually eaten raw. It appears as a garnish, in salads, and on sandwiches. Some formal English tea sandwiches mix watercress with butter for a peppery spread, while others are made with whole leaves of watercress. The spicy flavor makes it an excellent addition to a wide variety of dishes. Watercress is also used in parts of the East, particularly China and Japan. In these countries, watercress greens are usually lightly cooked before being consumed in soups, sauces, and stir fries.
Today, watercress is often available at high end grocery stores if it cannot be found growing wild. When selecting watercress greens to take home, look for an evenly colored bunch with firm texture and a lustrous green color. Avoid wilted or discolored watercress, and store the watercress in a plastic bag in the fridge for no more than five days before use. Watercress should be rinsed before being eaten to eliminate dirt.


By: Elenathewise

Watercress can be used like other greens or as a garnish.

By: Periwinkle Studio

Watercress greens are among the vegetables that are commonly used in Chinese stir-fries.

By: Konstantin Yuganov

Crisp watergress greens can be added to vegetable salads.

By: Stepan Popov

Peppery watercress can be added to a healthy vegetable stir-fry and served with brown rice.