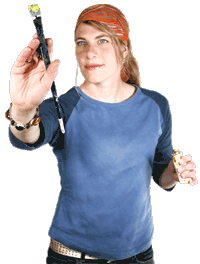 Wall appliques are a type of interior design element that consist of decals that can be applied to almost any smooth surface. They are normally removable and can be re-used, although some types may not be suitable for repeated application and removal. Wall appliques are an easy way to add accents to a room and are increasingly popular for children's rooms as well as finding use in other rooms as artistic elements and borders. Other types of wall appliques are used in kitchens as backsplashes to simulate tile and metal plating, or as large, wall-covering murals.
One of the most common and easy to use types of wall applique are self-adhering, removable decals for children's rooms. They are very popular because they can be removed and updated as the child grows. These types of applique are often vinyl but may be paper. Some types may have a weak adhesive that lets them adhere to a wall but stays on the applique when it is removed rather than adhering to the wall surface. Some types of vinyl applique require no adhesive at all but adhere to smooth surfaces on their own.
A wide variety of appliques are available for children's rooms. Generic designs of various themes for boys and girls as well as a large number of licensed characters, movie and television themes are possible. Appliques come in rolls for borders, individual shapes, or small accents that can be arranged in any way. Letters for creating messages, children's names, or educational words are also available and can be found in a variety of fonts and sizes.
Other rooms of the house can find uses for wall appliques as well. Some homeowners and interior designers are opting for wall appliques, particularly in kitchens, that mimic traditional wall coverings but are much less expensive than the genuine material. Wall appliques of this type may also be functional as well as cosmetic, such as the self-adhering panels used for backsplashes that simulate old-fashioned tin or copper panels. Tile, stone, and brick appliques are available as well. All of these are more substantial than just a thin decal and simulate the look and feel of the actual material.
Small removable appliques, such as artistic motifs for living spaces, sports figures for recreation rooms or cooking themed designs for kitchens, are available to add design accents to any wall in a home. Almost any kind of design imaginable can be found at various home improvement stores or online retailers. Large wall appliques can be used to cover entire walls. These tend to be of the semi-permanent type, usually with a stronger adhesive, and are called wall murals. This type of applique often depicts a landscape or some type of scenery, such as a sunset, rainforest, or mountain vista.


Woman painting