What Are Travel Cosmetics?
Travel cosmetics are toiletry products packaged in small bottles and jars, which make transportation easier. Most of the time, travel cosmetics are little more than smaller sizes of ordinary products, particularly lotions, makeup supplies, and shower essentials like shampoo and conditioner. Their packaging is often the same, but their contents are designed to last only a day or two. This way, travelers can bring along all of their favorite supplies without using up luggage space and can often discard the products at the end of a trip once they have been exhausted.
Most travelers strive to pack only the necessary elements when venturing out. Bringing along all of the cosmetic products used in a day can help a traveler feel at home but can also take up a significant amount of suitcase space. Purchasing smaller versions of staple products helps keep bags less bulky.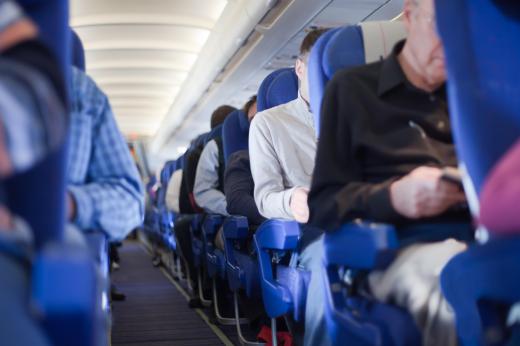 The same advantage carries to people, particularly women, who use cosmetics on the go. A travel compact and other travel-sized makeup fits nicely into most purse and briefcase pockets. Many people who are in the habit of applying beauty products away from home, be it in the office or on the train, often seek out travel cosmetics in order to carry their essentials more efficiently.
Travel cosmetics are often packaged as product samples and are frequently sold at a much lower price than full-sized products. They are sometimes also given away outright as promotions. Savvy shoppers are often on the lookout for travel-sized types of makeup and designer cosmetics as a means of snagging a good deal or trying out something new without having to commit to a lot of something that may not be a good fit.
Airline travelers in most parts of the world must also seek out travel cosmetics if they wish to bring almost any liquid, gel, or aerosol onto a plane. Most airlines do not restrict the cosmetics that passengers pack into checked bags, but tight requirements pertain to carry-ons. In most places, passengers traveling with cosmetics are limited to a small number of 3.4 ounce (100 mL) bottles or jars. Larger volumes are usually subject to confiscation.
Cosmetics users need not always purchase specific travel sizes of their favorite cosmetics in order to be travel-ready. Many manufacturers sell empty plastic bottles and jars specifically for travel. These types of containers are often reusable and can be filled with a variety of different cosmetics or combinations thereof. Storing cosmetics in personalized bottles or in a dedicated travel case can cut down on cost as well as reduce overall waste.
AS FEATURED ON:
AS FEATURED ON:

By: Pavel Losevsky

Travelers within the United States must adhere to strict Transportation Security Administration (TSA) rules that mandate what can and cannot be carried aboard an airplane.

By: m_dinler

When flying, its important to check TSA regulations regarding aerosols packed in a carry-on.

By: Gennadiy Poznyakov

Many people buy travel-sized bottles of shampoo and other hair-care products that can be taken aboard an airplane.