What are the Treatments for Urticaria?
Treatments for urticaria, a skin condition where raised areas of redness appear, can include antihistamines to reduce the inflammation, temporary courses of steroids, soothing skin creams, and immunosuppressive medications. The best treatment depends on the cause of the hives and other aspects of the patient's condition. In the course of treatment, patients may see dermatologists, allergy specialists, and immune specialists for the treatment of urticaria.
Also known as hives, urticaria is often associated with allergies, but not necessarily. Sometimes it is caused by physical stress on the skin such as rubbing or scratching, and it can also be the result of autoimmune disorders. When a patient presents with hives, the first step in treatment is determining why the skin outbreak is occurring so the correct treatments for urticaria can be provided.
The most immediate treatment is antihistamines. Urticaria is caused by the uncontrolled release of histamines from mast cells, leading to inflammation and irritation of the skin. Antihistamine medications can be used to stop the spread of the inflammation, allowing the urticaria to subside. Patients experiencing itching can use skin creams to soothe the skin and reduce the feeling of itching and discomfort. Bathing in a tub with baking soda, oatmeal, and other compounds known to ease itching can also be beneficial.
Some patients may need treatment with steroids, either oral or in the form of a cream. Steroid treatments for urticaria are primarily suitable for short term use. If the hives are autoimmune in origin, the patient may benefit from medications to suppress immune activities, reducing future outbreaks of hives. Allergic urticaria can be treated by finding the allergen and helping the patient avoid it. This can include making dietary changes, changing detergents, and so forth. If the allergen cannot be avoided, allergy medications may suppress the reaction and reduce the risks of experiencing urticaria.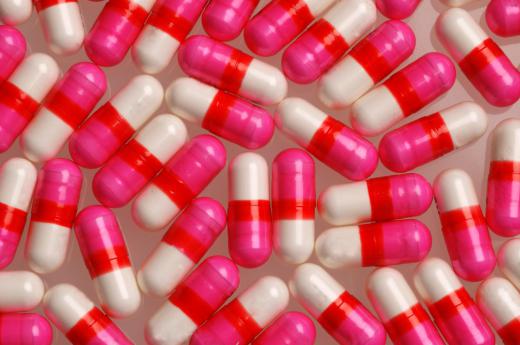 Patients may need to try several treatments for urticaria to find one that works. It is important to give treatments time to work before moving on to another option, as it may take several days for a medication to take effect. Alternative treatments for urticaria can include things like herbal medicine and acupuncture. Patients who want to explore complementary and alternative medicine should consult their doctors to find out if anything is contraindicated. A doctor may have a recommendation for a specific care provider, and patients may be able to get a discount or other benefits by seeing a practitioner their doctor regularly works with.
AS FEATURED ON:
AS FEATURED ON:

By: Rob Byron

Urticaria.

By: picsfive

Anti-itch cream can be applied to alleviate the symptoms of hives.

By: Wellford Tiller

Antihistamines can be used to help reduce inflammation due to urticaria.