What are the Symptoms of Typhus?
The symptoms of typhus, a serious type of bacterial infection, depend on the type of typhus a person has contracted. One type of typhus is referred to as murine and causes such symptoms as pain in the back, abdomen, head, and joints; a rash; high fevers; and a hacking cough. This type of typhus may also cause nausea and vomiting. The endemic form of this disease may cause joint, head, and muscle pain; high fevers; delirium; coughing; a skin rash; and eye pain in the presence of light. Though the symptoms of typhus can be severe regardless of its form, endemic typhus is more likely to be deadly.
Typhus is spread by lice and flea bites. An individual may develop it because of exposure to the infected lice and fleas of rats, cats, skunks, and other animals. An individual may also contract it by inhaling the dry feces of fleas and lice or by accidentally rubbing the fecal matter into a cut or scratch on his skin. The murine type of typhus is more likely to be diagnosed in developed countries during the summer and fall months. While it causes a range of unpleasant symptoms, it is not usually fatal.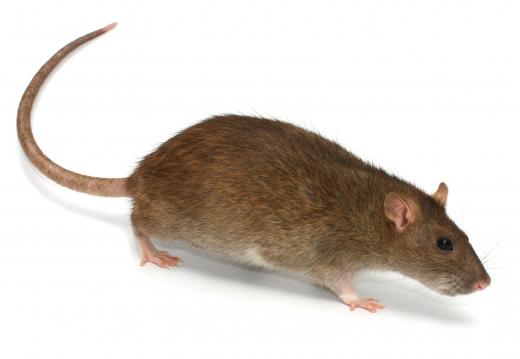 A person who has murine typhus symptoms may note that he has pain in various parts of the body. The symptoms of typhus may include headaches and backaches, pain in the joints, and pain in the abdominal region. A person with this condition may also develop a high fever, which may linger for a couple of weeks; a red rash; and a cough that is described as dry but hacking. In many cases, nausea and vomiting are among the symptoms of typhus as well. Antibiotics are used to treat murine typhus, which may linger on for months if untreated.
Endemic typhus is less common in developed countries but is also spread by the bites of infected fleas and lice as well as via flea and lice fecal matter. The symptoms of endemic typhus include a high fever and chills; a cough; and pain in the joints, muscles, and head. The condition may also cause a rash that spreads, sensitivity to light, and delirium. Antibiotics are usually used to treat endemic typhus, and a person may need supportive oxygen and fluids delivered via an intravenous (IV) line. Unfortunately, a significant percentage of people do die from this type of typhus infection.
AS FEATURED ON:
AS FEATURED ON:

By: Ilia Shcherbakov

Rats can carry fleas and lice that may be infected with the bacteria that cause typhus.

By: Eric Isselée

Exposure to infected fleas on skunks can lead to typhus.

By: Ocskay Bence

A high fever and joint pain are symptoms common to both murine and endemic typhus.

By: Yong Hian Lim

During hospitalization, fluid and electrolyte replacement is typically necessary.

By: ampyang

One symptom of typhus is the development of a rash.