What Are the Symptoms of Sleep Deprivation?
The symptoms of sleep deprivation include cognitive delays, behavioral changes, and physical symptoms. In the short term, a patient may find it difficult to function. Long-term sleep deprivation can have serious health consequences, including increasing the risk of chronic diseases like diabetes. Treatment is available, and it is important to seek assistance in cases where a patient cannot address sleep deprivation independently.
Cognitively, sleep deprivation can quickly lead to significant changes in neurological function. Patients who are not sleeping well have difficulty concentrating and focusing. They often encounter problems with routine tasks and have delayed reaction times, a particular danger for drivers and heavy equipment operators. Tremors, muscle weakness, and clumsiness are also common symptoms of sleep deprivation. The cognitive symptoms are similar to those seen in patients with high levels of blood alcohol.
Behaviorally, many people with sleep deprivation experience irritability and are often quick to anger. These symptoms of sleep deprivation can be explosive and frustrating for the patient; she may lash out at people around her or grow irritated by relatively minor environmental changes, like a strong smell or the sound of conversations. Sleep deprivation can also increase stress levels and may contribute to depression and anxiety.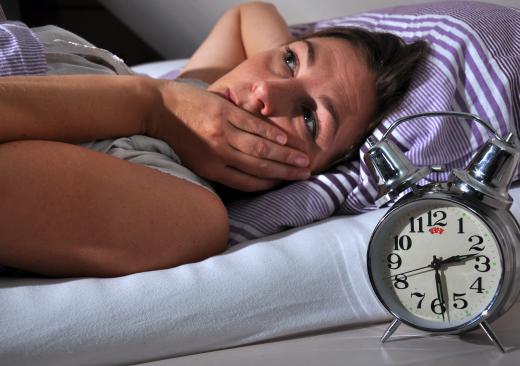 Symptoms of sleep deprivation can also include uncontrolled yawning, joint pain, and bloodshot eyes. Patients may develop appetite changes, eating more or less than usual. Some patients develop nausea and may have difficulty eating or could vomit after eating, especially if the source of the sleep deprivation is stress or anxiety. A sense of heaviness and extreme fatigue is another warning sign of sleep deprivation. Prolonged lack of sleep can lead to dry skin, slower healing of cuts and scrapes, and muscle and joint stiffness.
Treatments for patients showing symptoms of sleep deprivation can include sleep aids to help the patient sleep. Patients may also need to rearrange their schedules, practice better sleep hygiene, and work on eliminating sources of stress. Individuals at risk of losing sleep because of their jobs or studies need to be especially careful during stressful periods like final exams or the days leading up to a product release, as lack of sleep can impede their ability to function effectively. Staying up all night to study, for instance, may actually make a test-taker more prone to mistakes on the examination, while a good night of sleep could help keep the mind sharp and ready for the test.
AS FEATURED ON:
AS FEATURED ON:

By: ryanking999

Overwork can cause sleep deprivation.

By: Dan Race

Sleep deprivation can lead to myriad problems.

By: Sanjay Deva

For some patients, sleep deprivation and hypertension are linked yet both problems often go undiagnosed.

By: Anna Khomulo

A medical sleep aid might be used to treat sleep deprivation.

By: JGade

Bloodshot eyes are often a sign of sleep deprivation.