What Are the Side Effects of Sertraline?
Sertraline is the generic name of a medication commonly prescribed to individuals diagnosed with depression. Some of the most common side effects of sertraline are similar to those caused by other antidepressants, and involve gastrointestinal distress such as vomiting or diarrhea. There may also be changes in the individual's energy level, and he or she may suffer from drowsiness and fatigue.
Most of the common side effects of sertraline fade as the body adjusts to the medication. Many individuals develop changes in libido when first starting on the medication, which typically include a lack of interest in sex. At first, there may be changes in sleep patterns as well, from insomnia to fatigue and drowsiness during the day.
Since the medication works by changing the amount of chemicals, namely serotonin, in the brain, taking sertraline can also cause emotional changes. An individual may become restless and unable to concentrate or to remain still. Although it is rare, some individuals have developed feelings of paranoia and irrational suspicions, feeling uncomfortable in the company of others, or increased feelings of depression. Some individuals have also had manic experiences accompanied by involuntary, expressive movements of the arms and legs.
Dry mouth is one of the most common side effects of sertraline, along with fluctuations in weight or gastrointestinal discomfort such as abdominal cramps and constipation. These may be severe, but generally fade before becoming unbearable. When these gastrointestinal side effects escalate into vomiting or diarrhea, they are considered a severe reaction that should be reported to a medical professional.
A number of rare side effects of sertraline are also possible, and flu-like symptoms such as chills, fever, body aches, joint pain, and fatigue can occur. There may be cases of localized pain in the chest or lower back, and occasionally individuals have experiences of tingling or edema in the extremities, trembling, or the development of involuntary tics. There may be some changes in the face of an individual taking sertraline, such as red or watery eyes, pale skin, swelling around the eyes or lips, and tender swelling of the glands in the throat.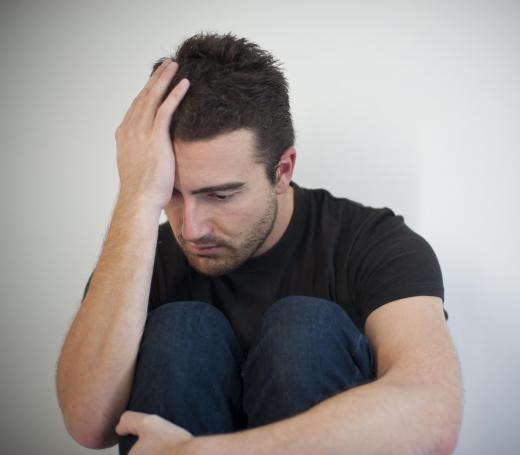 Some severe but relatively rare side effects of sertraline include heart palpitations and seizures. Occasionally, an individual will have an allergic reaction to the medication, which usually develops soon after first taking it. If the individual develops difficulty breathing, red patches on the skin, a raised rash, or swelling of the tongue and throat, a medical professional should be consulted.


By: Feng Yu

Sertraline, like most drugs, has various side effects including insomnia and restlessness.

By: Johan Lenell

Gastrointestinal distress, such as vomiting, are common side effects of sertaline.

By: snyggg.de

Sertraline blocks the way the brain uses serotonin.

By: Tatty

Sertraline may be prescribed to treat obsessive compulsive disorder.

By: Paolese

Although rare, suicidal thoughts are one possible side effect of sertraline.