What Are the Pros and Cons of Forwarding Luggage?
Both the pros and the cons of forwarding luggage depend on a variety of factors. Such aspects include the traveler's personal situation, the amount and weight of the luggage concerned, and the time and cost involved. Considering these factors will help the traveler determine whether the advantages outweigh the disadvantages of forwarding luggage.
By forwarding luggage, a traveler can decrease the amount of time he spends in the airport as well as the cost of checking his baggage. Many modes of transportation, especially airlines, charge fees for checking luggage, and those fees increase if overweight luggage is involved. By sending luggage ahead, a traveler can avoid those fees. He can also avoid the stress of making sure he hasn't packed any items that aren't allowed, and he won't have to deal with carrying his luggage from his vehicle to the different checkpoints in the airport, bus, or train terminal. This is especially helpful for travelers who aren't able to easily manage the number of suitcases or weight of their luggage.
Forwarding luggage also helps minimize the risk of losing it. Although it's not as common for bus and train travelers to have their luggage lost, lost or misdirected luggage is fairly common among airlines. Sometimes, lost luggage is immediately located, but there are times when it takes time to locate it and times when it's never found. Too, if it is found, typically the traveler either has to wait for the luggage to be shipped to him or make the trip to retrieve the luggage himself. Generally, if he uses a luggage forwarding service or even mails the luggage himself, the traveler will receive a tracking number, enabling him to constantly keep up with his luggage's location.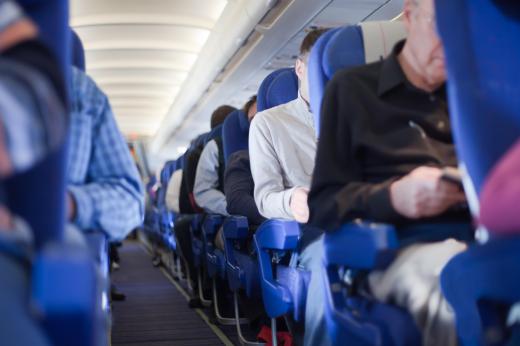 On the other hand, forwarding luggage can end up costing more than traveling with it, depending on the luggage forwarding service or carrier. Choosing to ship the luggage at an expedited rather than standard rate can increase the cost. Too, not all forwarding or mail services work on the weekends or holidays, so unless coincidence or proper planning is in place, the traveler could arrive at his destination but have to wait for his luggage. Some travelers prefer to pack their suitcases as close to the last minute as possible to keep using their items or make sure they don't leave anything out. Shipping luggage days ahead of their trip doesn't allow for last-minute packing.
AS FEATURED ON:
AS FEATURED ON:

By: varandah

By forwarding luggage, a traveler can decrease the amount of time he spends in the airport as well as the cost of checking his baggage.

By: Pavel Losevsky

By forwarding luggage, a passenger is less likely to have problems with lost or misdirected baggage.