What are the Natural Methods of Vision Correction?
Methods for natural vision correction include eye exercises that are designed to relax the muscles. It's believed by some that poor eyesight is often caused by overstressed external eye muscles. By engaging in exercises that relax those muscles, such as blocking out light for a period of time, some believe that vision can gradually improve without the aid of corrective lenses or surgery. Other natural vision correction methods center around nutritional supplements, such as beta-carotene, lutein, and bilberry.
Much of the natural vision correction field derives from the work of William Bates, an ophthalmologist who, in the 1920s, published material claiming that bad vision was largely a result of eye strain and stress, particularly in the external eye muscles. Bates and his followers have contended that corrective eye lenses, rather than solving bad vision, can actually make it worse. Instead, Bates said, people should practice eye techniques that relax the muscles and thus cause better eye focus. Exercises associated with Bates' theory are considered part of the Bates method.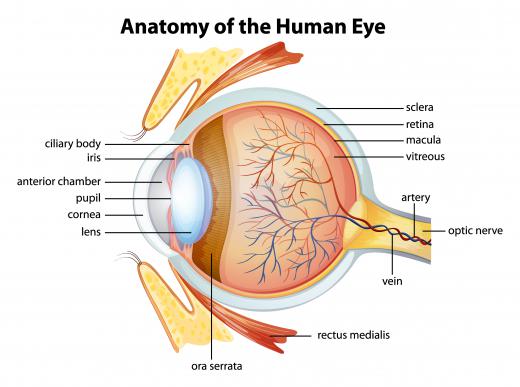 There are various Bates method exercises, such as palming the eyes, in which one's palms are placed over closed eyelids to block out all light. This is thought to allow the eyes to fully relax. Sunning the eyes—with the eyelids closed—is another popular method of eye relief. Swinging back and forth while focusing on an object is another Bates method for focusing the eyes. Envisioning letters and objects in the mind's eye is also believed to increase the quality of vision. For example, when trying to look at a sign from a distance, one might first imagine the sign in the mind's eye, and continue to focus on that internal vision after opening the eyes to look at the actual sign.
Although it has been widely shown that many eye relaxation techniques do help alleviate eye strain, it has not been scientifically proven that they actually facilitate vision correction. Many of Bates' theories about the structure of the eye, and about the effect of the external eye muscles on vision, proved to be anatomically incorrect. By and large, the fields of ophthalmology and optometry do not teach or endorse the Bates method as an effective way to correct vision. Instead, practitioners tend to promote corrective eye lenses and surgery. In spite of the lack of mainstream acceptance, many individuals swear by the positive effects of the Bates method.
Natural vision correction proponents also often advocate nutritional supplements for the eyes. There are many supplements that may be very healthy to the eyes. Lutein is one such supplement, a carotenoid naturally found in the human eye as well as in many green, leafy plants, such as spinach. It may also be found in many vitamin supplements. Studies have suggested that lutein decreases the risk of macular degeneration.
Bilberry is another supplement that is thought to lower the risk of macular degeneration. Popular folklore has it that bilberry also increases night vision, though that theory has not been scientifically proven. Beta-carotene, which contains vitamin A, is also taken to reduce the risk of cataracts and macular degeneration. Carrots contain high amounts of beta-carotene. Many of these supplements, though healthy for the eyes, aren't necessarily shown to improve poor vision.
AS FEATURED ON:
AS FEATURED ON:

By: blueringmedia

Poor vision can be caused by overstressed eye muscles.

By: Danilo Rizzuti

Blocking out light may allow the eye muscles to relax.

By: joshya

Increased intake of Vitamins A, C and E can help decrease the chances of developing cataracts.

By: LIDOphotography

Envisioning objects before looking at them is one type of eye relaxation technique.