What Are the Most Common Prolotherapy Side Effects?
Prolotherapy is a non-surgical treatment for people dealing with chronic pain. It involves a series of injections intended to stimulate healing in the affected area. Though prolotherapy is considered safe when performed by a trained doctor, it can cause side effects. Among the most common prolotherapy side effects are discomfort, stiffness, bruising, and headaches. For most people, the side effects are temporary and go away within a week or so of treatment; more serious effects, such as allergic reactions and infection, are much less common.
One of the most common prolotherapy side effects is pain. Often, a person who has this treatment feels pain when a needle is inserted into his body and particularly when the needle is guided in between bones to a soft-tissue target. It can be normal to experience a mild-to-moderate amount of pain as a side effect, but severe pain can be a sign that something is wrong. For example, a person might experience severe pain during this procedure if a doctor inserts the needle the wrong way or hits a nerve.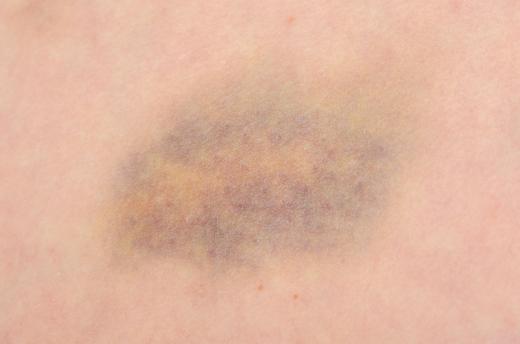 Bruises sometimes develop at the site of the injections or in the general area. In most cases, the initial bruising is mild and fades within about seven days or so. This type of treatment often requires many injections and multiple treatment sessions, however. As such, a person may have more severe bruising or note that his bruises last for a significant amount of time. Though this side effect is unpleasant, it is usually only temporary rather than a sign of a serious problem.
Many people also notice stiffness in the area in which they receive injections as part of a prolotherapy session. These injections push an irritating solution into the patient's joints, cartilage, and tendons in an effort to make the body's healing process speed up and ultimately get rid of the source of pain. Sometimes, the presence of this fluid in damaged or deteriorating tissue causes stiffening. Like other prolotherapy side effects, however, the stiffness typically fades with time. In fact, some people experience stiffness as the result of a painful neck or back condition and may not find the stiffness caused by prolotherapy particularly troubling.
Headaches may also develop when a person has prolotherapy treatment. For some people, the pain lasts for just a couple of days after treatment while others note headaches for a couple of weeks after the injections. A person might also experience prolotherapy side effects like nausea during the procedure, right after it, or for a few days of his recovery time.
AS FEATURED ON:
AS FEATURED ON:

By: roblan

Bruising is a common side effect of prolotherapy.

By: memo

Some patients experience headaches and pain while taking prolotherapy.

By: Fernando Madeira

Many people experience stiffness at the site where they received an injection as part of a prolotherapy session.

By: Gabriel Blaj

Prolotherapy side effects may include nausea.

By: and.one

Side effects of prolotherapy may include stiffness and pain.