What are the Most Common IUD Side Effects?
IUD side effects run the gambit from very minor to sometimes very serious problems in need of medical attention. While many people may complain of some side effects, others may be able to get by without many problems at all when using an intrauterine device. Side effects can include heavy bleeding, weight gain, cramping, and acne. Despite these potential complications, IUDs tend to be a very popular form of contraceptive birth control.
The minor side effects are listed as acne and weight gain. While these issues may be annoying and weight gain has the potential to become a serious problem, they usually pose no immediate health threat. Further, they can be controlled, at least to a certain degree, which may help make them more acceptable, at least to some.
Dealing with minor side effects from an IUD can be done by watching the calories a person takes in and looking at common acne treatments. For severe acne, consulting with a family doctor or dermatologist may be an appropriate thing to do. A doctor may prescribe more aggressive forms of treatments for acne -- ones not available over the counter.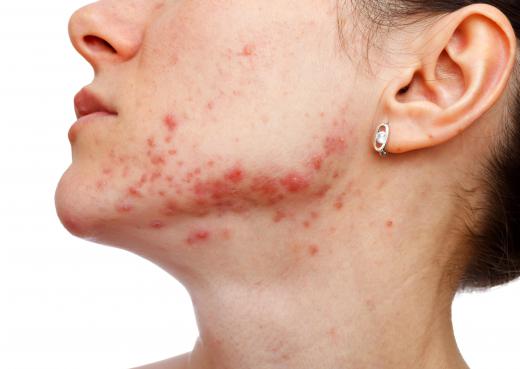 More serious IUD side effects include cramping and heavy bleeding. Cramping may not be that serious either, but could still be very painful for the individual. However, bleeding can be much different. If bleeding becomes serious enough, anemia can result. This is a condition that can lead to serious health problems, including death, if it is not treated properly. Therefore, any severe bleeding should be taken seriously.
It should be noted that for those who do experience IUD side effects, there is some good news. Most of the time, the symptoms will become less severe after the initial few months. Therefore, for those who are able to put up with a little inconvenience, they will have up to five years of worry-free birth control. However, sometimes those conditions may be so severe that the individual involved feels there is a need to remove the device prematurely. In those cases, the IUD side effects usually stop within a relatively short period of time.

An intrauterine device, also known as an intrauterine contraceptive (IUC), may be one of the easiest forms of birth control to have, but those side effects can scare some people away. Nearly any type of birth control product, especially those placed inside the body and deal with hormonal treatments, could produce side effects. All forms of birth control, and the pros and cons of each, should be discussed with the patient before the product is chosen.


By: Dessie

Most common IUD side effect in cramping and heavy menstrual bleeding.

By: Dominique VERNIER

A copper IUD.

By: Ocskay Bence

IUD side effects can include minor to severe acne.

By: Dragos Iliescu

Some women with IUDs may experience abnormal vaginal discharge.

By: Peter Atkins

Although an IUD may prevent pregnancy, condoms should be worn to prevent sexually transmitted disease.