What are the Most Common Inhaler Side Effects?
Most inhaler side effects are thought to be relatively mild. They include headache, upset stomach, a bad taste in the mouth, and an irritated throat or mouth. Some inhaler side effects may be more severe, though, especially for older women and those who have bad asthma. These severe risks may include a yeast infection in the mouth or throat and the acceleration of osteoporosis.
There are three main types of inhalers. The first is a nebulizer. This type of inhaler uses a tube or mask to deliver a dose of medicine. These inhalers are mainly used by children and the elderly.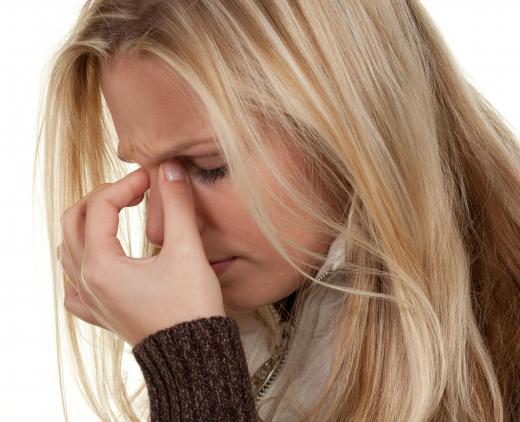 The second type of inhaler is a metered-dose aerosol inhaler. When a person uses this inhaler, the medicine is forced into his mouth by pressurized gas. Another type of inhaler is a dry-powder inhaler. A person inhales the medicine himself, so a certain amount of force is needed to actually inhale the medicine all the way into the lungs. This can be difficult for small children, the elderly, and those who are having a severe asthma attack.
Each type inhaler may produce the same common inhaler side effects. A bad taste in the mouth and irritation in the throat is very common because the medicine passes through the mouth and throat on its way to the lungs. If a person rinses out his mouth after he uses an inhaler, the rinsing normally is sufficient to get rid of the bad taste. Thrush, which is a yeast infection of the mouth, may occur but usually only happens when a person is taking a higher dosage of inhaler medication.
Older women who take inhaled medicine for asthma might have more problems than other inhaler users. Acceleration of osteoporosis is often reported after a woman has gone through menopause. Medications can be given to treat osteoporosis if it identified as a problem.
The most common complaints out of all the inhaler side effects are headache and upset stomach. These are relatively minor inhaler side effects and can easily be treated. Many people who use inhalers do not experience any side effects at all.
A doctor should be able to tell his patient all of the risks associated with the asthma medication he prescribes. Together they can decide whether the benefits outweigh the risks. A doctor generally will prescribe the lowest dose needed to control a patient's asthma so inhaler side effects are less likely.


By: alctxphoto

An asthma inhaler.

By: Picture-Factory

One possible side effect is a headache.

By: Olga D. van de Veer

A bad taste in the mouth and irritation of the throat are common side effects of using a dry-powder inhaler.

By: auremar

Severe side effects of using an inhaler include a yeast infection in the mouth or throat.

By: triocean

Headache and upset stomach are among the most common complaints of inhaler side effects.