What are the Most Common Causes of Swelling of the Toes?
Swelling of the toes can be a painful condition, and it is sometimes difficult to pinpoint the cause. Swollen toes can be caused by many different conditions, such as injury, gout, or a condition called edema. Most of the time if swelling of the toes does not extend to more than one toe, or to the feet, it is likely the result of an injury.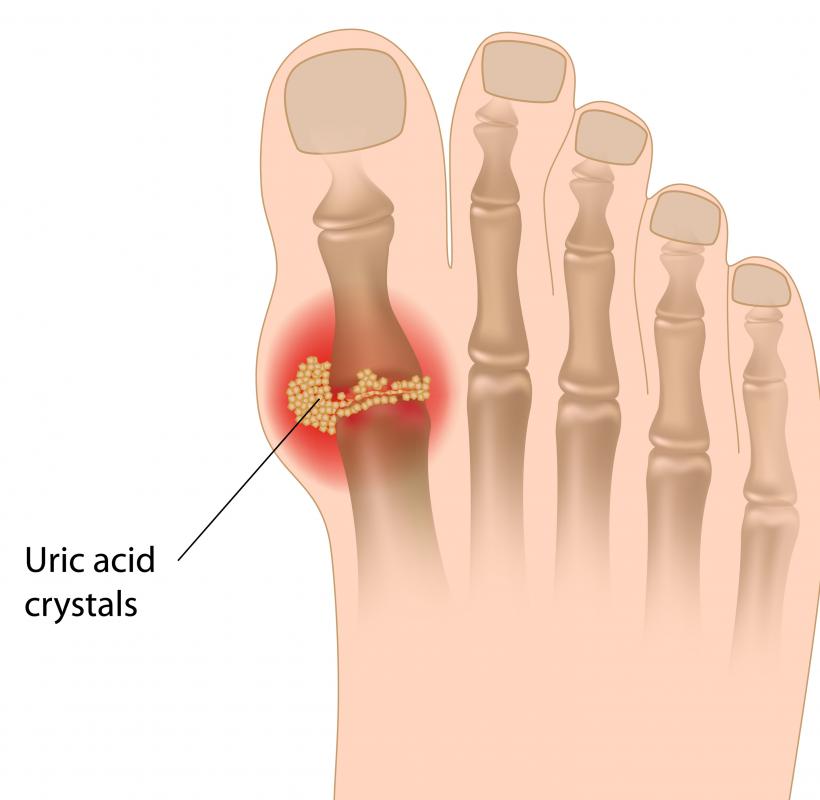 Most of the bones in the human foot are actually located in the toes. Overall, the foot has 26 bones, with the toes containing 14 of them. Toes and feet are generally the part of the body that lead first, which usually means they are the first part of the body to make contact with whatever may be on the ground. This is one of the main reasons that injuries to the toe are so common. People often put their foot forward without ever looking to see what may be lying in their path, which may be another reason that toe injuries occur so frequently.
The large majority of injuries to the foot involve the toes, and most any of these injuries could cause swelling of the toes. Sometimes the severity of the injury can be determined by how bad the toe has swollen. For instance, a break or a sprain will both usually cause swelling of the toes, but in most cases, swelling with a broken toe will be much worse. In addition, a broken or fractured toe will generally be much more painful than a sprain.
Gout is a condition believed to be similar to arthritis, and is caused by elevated levels of uric acid. Toes are a common part of the body for gout to occur, and are often the first part of the body to exhibit symptoms. It is often very painful and generally causes swelling of the toes that are also reddish in color and warm to the touch. Sometimes those who suffer from gout may experience so much pain that they are unable to walk. Gout can sometimes be relieved by taking steroids and other types of anti-inflammatory medications.
Edema is the result of fluid retention in body tissues. It usually causes swelling of the toes and feet. Sufferers of edema are typically advised to consume less salt and are often prescribed diuretics to help eliminate the buildup of fluid. Edema can sometimes signal serious health issues, such as heart failure and kidney disease.