What are the Most Common Causes of Severe Upper Back Pain?
The most common causes of severe upper back pain include injuries from trauma, poor posture, joint issues, and spinal injuries. Among people who work desk jobs, poor posture is perhaps the most common cause of severe upper back pain, as undue strain can be placed on the neck, shoulders, and upper back throughout the work day. Spinal injuries such as herniated discs have the potential to cause severe upper back pain, especially if nerve compression results from the herniation. Muscle strains and tears can also cause pain in this region, especially among athletic people.
Poor posture is a common cause of severe upper back pain. As the neck and shoulders slouch, the muscles will tend to tighten, leading to headaches, shoulder aches, and back aches. Muscles tend to tighten as they become tired, and slouching can tire the muscles out. Tired muscles are more likely to incur injuries such as muscle strains and tears, and tight muscles can lead to stiffness and altered body movements which in turn perpetuate the pain. Paying attention to one's posture throughout the day, or investing in ergonomic furniture such as ergonomic chairs that support the back, can help alleviate such pain and improve posture.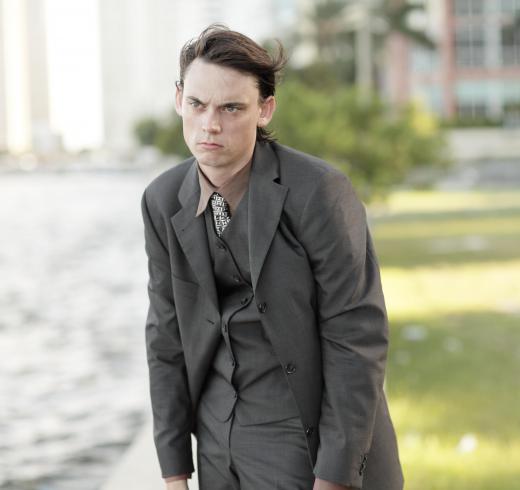 A herniated disc in the spine is a common problem that occurs when any one of the spinal discs, which sit between the vertebrae, rupture or bulge, putting pressure on the nerves that surround it. A spinal disc is a sac filled with a gel-like fluid, and it is intended to act as a shock absorber for the spine. A bulging disc can put pressure on nerves that can in turn cause pain throughout the area of the body serviced by that nerve. Severe upper back pain may also result from a herniated disc; most herniated discs heal on their own with adequate rest, but some may need to be addressed surgically.
Joint problems can lead to severe upper back pain, especially if one suffers from arthritis anywhere in the spine. Arthritis occurs when the ligament and cartilage in joints begin to break down, opening the joint up to several different problems, such as bone degradation, nerve damage, swelling, and inflammation. This is a degenerative condition for which there is no cure, but pain management measures are available. When arthritis occurs in the spine or the joints of the shoulders, severe upper back pain may result; a doctor may prescribe anti-inflammatory medications or a regular exercise and stretching routine meant to help slow the progress of the arthritis.
AS FEATURED ON:
AS FEATURED ON:

By: Felix Mizioznikov

Poor posture is a common cause of severe upper back pain.

By: endostock

Although an ergonomic chair may help alleviate upper back pain, it's still important to take stretch breaks throughout the day.

By: 9nong

Herniated discs are uncommon, but may be a cause of severe upper back pain.

By: Andy Dean

It may be wise to see a neurologist if headaches and severe upper back pain are persistent.

By: ulldellebre

Back pain is often caused by straining muscles by carrying too much weight.

By: rob3000

A herniated disc is a common cause of upper back pain that occurs when a spinal sic between the vertebra becomes ruptured or bulges.