What Are the Most Common Benzodiazepine Side Effects?
The most common benzodiazepine side effects affect the patient's alertness. They include drowsiness, grogginess, memory loss, and dizziness. Patients have reported blurred vision, confusion, depression, and headaches as well. Body function may also be affected, resulting in loss of strength and coordination or the development of tremors. Most of these conditions do not require immediate medical attention.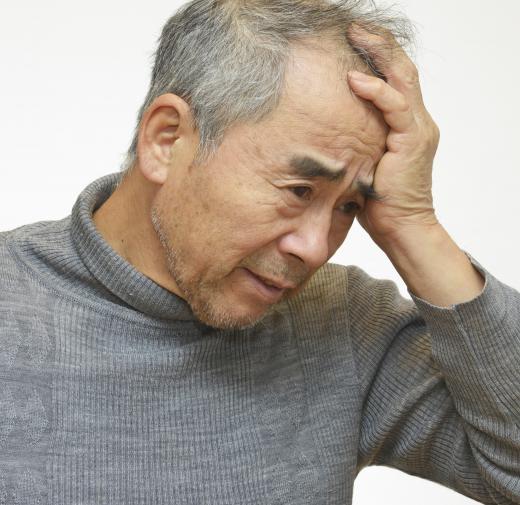 Some more serious benzodiazepine side effects include changes in vision or heart rate. Other more dramatic effects include yellowing eyes and skin or chest pain. These symptoms should be reported to a doctor as soon as possible. Sexual problems such as erectile dysfunction and low libido are other common effects.
Less common benzodiazepine side effects include extreme confusion and blurred vision. There may also be unusual dreams or nightmares. Some patients report appetite changes and nausea. There have also been reports of change in behavior, such as a condition called depersonalization where patients become emotionally distant from their actions.
Though severe allergic reactions to benzodiazepine are rare, they should be reported to a medical professional immediately. The most common types of serious benzodiazepine side effects include breathing difficulty, swelling, rash, and itching. Some patients may also experience extreme dizziness.
Individuals with kidney or liver disease may be more susceptible to negative benzodiazepine side effects. The drug can also have a more intense effect upon the elderly. It is generally not recommended for women who are pregnant or nursing. In order to lower the risk of negative effects when taking the drug, patients should disclose their full medical history and what other medications they are taking to a doctor before use.
There are also several food and drug interactions which can potentially harm the patient and affect the potency of benzodiazepine. Doctors may recommend avoiding foods with grapefruit or grapefruit juice as they can inhibit the effects of the drug. Anti-depressants, sedatives, and sleep aids may also be risky. Patients should consult their doctor about the use of antihistamines and cold medicines as well
Benzodiazepine is a psychoactive drug that is typically used to treat anxiety. In addition to addressing general tension, it is often used for substance abuse withdrawal symptoms and sleep problems. The drug is typically administered with caution, as it is easy to develop a tolerance. There is some risk of abuse, especially among patients who are taking benzodiazepine to treat withdrawal symptoms. Patients who abuse the drug often take other drugs or drink excessively as well.


By: lassedesignen

Grogginess is a common side effect of benzodiazepine.

By: chuugo

Confusion is one possible side effect of benzodiazepine.

By: egorxfi

Those taking benzodiazepine may have to avoid eating grapefruits or products made from the fruit.