What are the Effects of Turmeric on Acne?
The effects of turmeric on acne are positive, because the turmeric is able to reduce the pain and inflammation that is associated with acne and pimples. It can help remove harmful bacteria to speed up the healing and prevent a future breakout. An acne cream containing turmeric can be applied topically for fast results. One also can make an herbal treatment mask by combining turmeric with other ingredients, such as neem leaves, lemon juice, coconut oil or milk, to help dry out the acne and heal the acne scars. In addition, turmeric powder also is effective when it is taken orally, because it can help eliminate internal toxins and strengthen the immune system.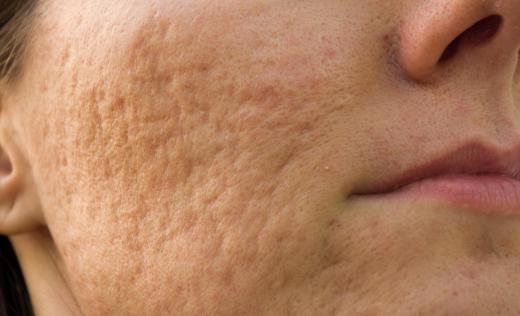 One of the key ingredients that is responsible for the positive effects of turmeric on acne is curcumin. It has antiseptic properties that help cleanse the pores, removing harmful bacteria and other substances that often contribute to the formation of acne. Curcumin also contains anti-inflammatory properties that reduce inflammation, redness and swelling. Another benefit of curcumin is that it acts as a powerful painkiller that numbs the pain associated with acne.
For quick results, a home remedy made with turmeric powder, coconut oil, olive oil or sesame seed oil can be applied topically as a mask and left on overnight. Improvements could be seen in the morning, but it might take two to three days before the acne is gone. Another way that one can use turmeric on acne is to take the powder and mix it with young coconut water or lemon juice and apply it to the acne or acne scars for relief and healing. A topical acne cream is also beneficial for fast removal of acne and pimples.
Turmeric helps rid the body of internal toxins and harmful bacteria when it is taken orally. When combined with a healthy diet, it is able to build up the immune system, which is essential to prevent a future outbreak of acne or pimples. A common way for one to take turmeric internally is to drink it by mixing it with milk or by making a tea. It also can be added to cooked foods such as rice and vegetables, or one can take it in the form of a supplement.
Other positive effects of using turmeric on acne are that it softens the skin, reduces the appearance of wrinkles and helps regulate the amount of oil that is produced by the sebaceous gland. Therefore, turmeric will not cause the skin to become flaky or dry when it is used in moderation. When applying turmeric on acne, it is important for one to remember that it can cause discoloration of the skin, and it can take several days before it washes off completely.


By: Elena Moiseeva

Turmeric powder.

By: Budimir Jevtic

Acne can leave behind scars and marks.

By: ipag

A specially formulated facial wash is typically more effective against acne than natural remedies.

By: phasinphoto

Tumeric may help reduce the pain and inflammation caused by acne.

By: Budimir Jevtic

Turmeric can be mixed with other ingredients to make an acne-fighting ointment or mask.