What Are the Different Ways to Bleach Hair?
Hair bleaching is often carried out by men and women to remove color, either so that a lighter color than their natural or dyed hair can be applied or simply to achieve a bleached blonde look. The process, if not properly carried out, can result in significant damage. There are different ways to bleach hair, including at the salon and at home, using bleaching kits, hydrogen peroxide, and natural lighteners.
One of the most popular ways to bleach is to have it professionally done at a salon. Although this can be significantly more expensive than bleaching home, this method is often safer as the stylists are familiar with both the chemicals that they use and the way in which they should use them. Salons want the best experience for their customers, so stylists tend to be as careful as they can and may also advise you on whether your hair is in good enough condition to withstand the bleaching process.
There are also ways to bleach hair at home. Store-bought bleaching kits contain everything needed for a person to remove color from their hair. These kits usually contain a bleaching solution with ingredients such as hydrogen peroxide, gloves, and an applicator. Instructions and hair conditioners are also included and should always be used. Several kits may be required if the man or woman's hair is very long or dark.
Another way to bleach hair includes using a 3% hydrogen peroxide solution straight out of the bottle. The fumes from this cheaper method can be quite pungent, and safety glasses, gloves, and a patch test are strongly recommended. Results can be somewhat inconsistent, and the peroxide can result in damaged hair that becomes quite brittle over time. Household bleach should be avoided at all times. This type of bleach can severely irritate the skin and often causes hair to burn, shrivel up, and break off.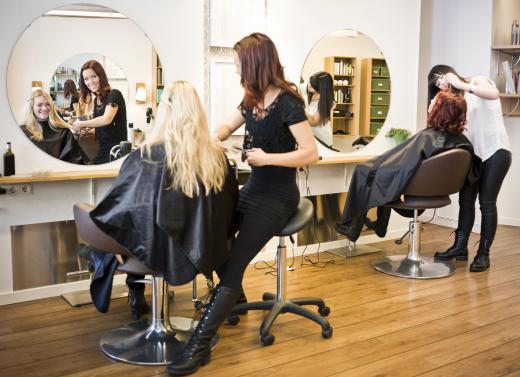 Subtle, gradual ways to bleach hair include natural rather than chemical ingredients. Lemon juice bleaches hair over time, especially if a person applies it to wet hair before he or she goes out in the sun. Teas such as chamomile also cause a gradual lightening of the hair. Honey contains the same enzyme as hydrogen peroxide and has a similar, though reduced, effect. These ways to bleach hair, although perhaps the least effective, are also the least damaging.
AS FEATURED ON:
AS FEATURED ON:

By: Tim

A hair bleaching kit.

By: Valua Vitaly

The safest method of bleaching hair is to have it done at a salon.

By: gemenacom

Most hair salons offer hair bleaching services.

By: WimL

Using laundry bleach is not recommended when bleaching hair.

By: steinerpicture

When bleaching hair, it's necessary to wear gloves to protect the hands.

By: Valua Vitaly

Lightening hair with bleach often produces brassy tones, which may require toner to neutralize.