What Are the Different Vapor Rub Uses?
Recommended vapor rub uses include rubbing it on the chest and throat to relieve coughing, inhaling its steam, and using it as an ointment for minor aches and pains. Nontraditional uses might cause side effects and poisoning if taken by mouth. Some people find these products effective for toenail fungus, insect bites, warts, and cold sores. Use on broken skin is not advised because harmful ingredients might enter the bloodstream and could cause poisoning.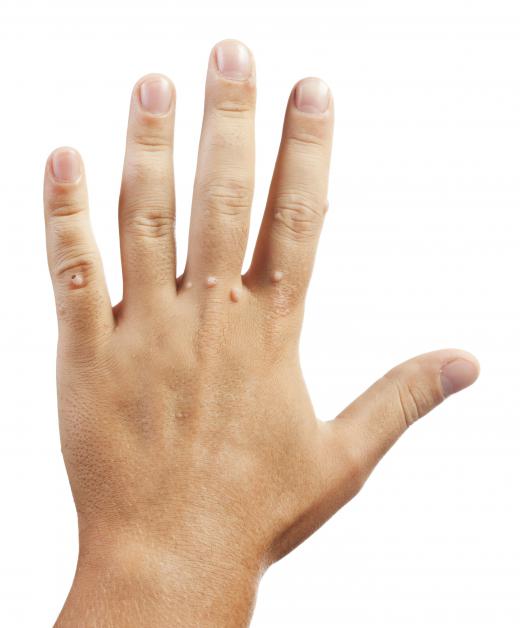 Topical vapor rub uses are probably safe and might be effective as long as the ointment is not applied to open wounds. Some people find relief from headaches after applying this product to the forehead. Other people say vapor rub uses for hemorrhoids shrinks painful tissue, while others report it caused extreme burning and discomfort. When applied to sore muscles, vapor rub might ease minor aches.
Ingredients in vapor rub include menthol, camphor, and eucalyptus oil that give the ointment its distinctive scent. Camphor and turpentine represent folk remedies used for centuries as tonics for a wide range of ailments, but ingesting these oils could be fatal. Vapor rub uses should not include any treatment where the product is eaten as a method to expel phlegm from the body.
Camphor poisoning might occur if the ointment is absorbed through the skin. Manufacturers advise against vapor rub uses on any area where skin is broken, which might allow camphor to enter the bloodstream. This caution applies to using the product on cold sores or inside nasal passages. Signs of camphor poisoning include nausea, vomiting, and burning.
Vapor rub uses for toenail fungus probably aren't harmful, but may or may not represent an effective treatment. Some people report fungus disappeared after topical applications of this product, while others saw no change. It might take up to six months of repeated applications several times a day to see results, but evidence remains mixed.
An American pharmacist invented vapor rub in the late 1800s as a pneumonia and croup salve to ease breathing during cold season. It was one of almost two dozen products sold at the time to address outbreaks of flu. Later, these products were advertised as an alternative to oral cold medicines children might find distasteful. Vapor rub uses with steam might release active ingredients that ease coughing. Some mothers put the product on their children's feet when they suffer from a common cold.
This product is not advised for children under two years old. Some people might be allergic to vapor rub, causing them to break out in a rash. Heating the salve before use might pose a danger because of oil content.


By: uwimages

Vapor rubs may be used on cold sores.

By: Tiler84

One nontraditional use of vapor rub is to remove warts.

By: Zsolt Biczó

Vapor rub may be used to ease coughing.