What Are the Different Types of Wildland Firefighter Jobs?
Wildland firefighter jobs are usually divided into separate crews, each of which has specific responsibilities during a fire. This is a very physical profession and can be dangerous. Job seekers should exhibit excellent fitness and outdoor skills. Local and national emergency services typically hire both seasonal and permanent employees.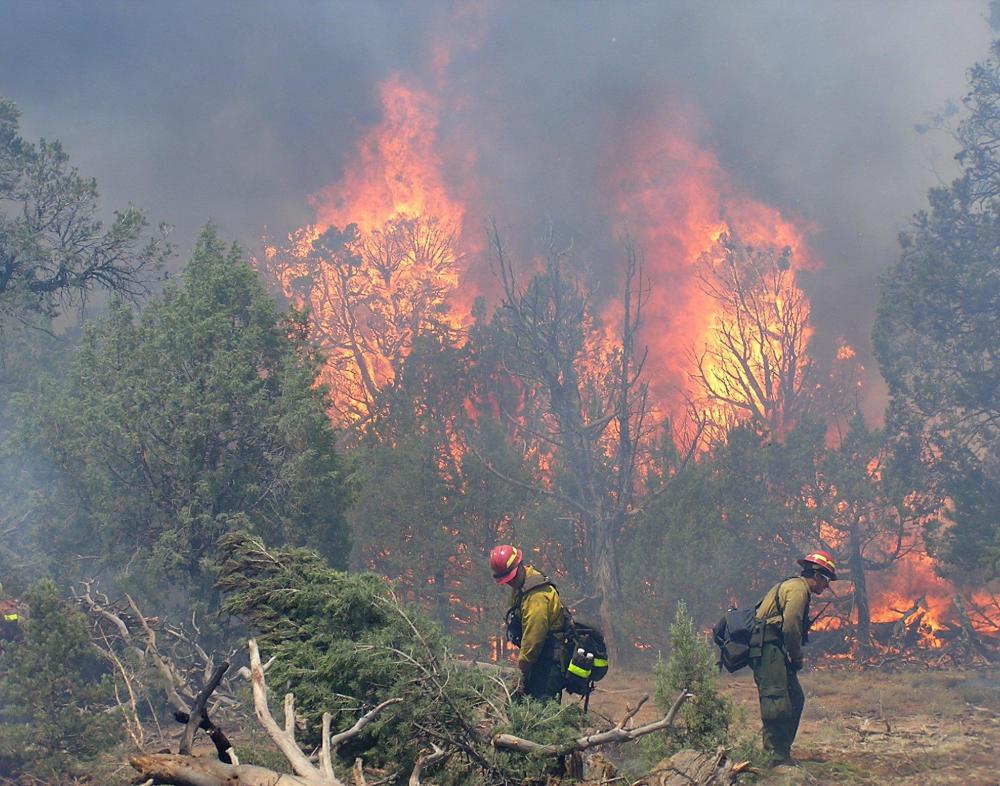 Many wildland crews are composed of three to ten firefighters, though larger crews may have up to twenty. Fuel and hand crews work together on mechanical fire reduction, thinning timber to reduce fuel by cutting, and burning prescribed fires. These are controlled burns that help maintain the health of forested areas and reduce the possibility of a major wildfire. They also work with engine crews and patrol areas, controlling hotspots. Personnel in wildland firefighter jobs may also be assigned to a crew that maintains equipment and prepares for prescribed fires.
Remote work crews, sometimes called hotshot crews, spend a lot of time doing the same type of work as hand crews during fire suppression, creating fire lines and cleaning out burned areas. Their specialty is extremely rugged terrain; they are generally self-sufficient and fit. Engines cannot always get into these remote areas, so maintaining them helps prevent a fire from getting out of control. Mobile crews may also be deployed to bigger fires far from their base, where they will stay in fire camps for the duration of the event.
The most coveted wildland firefighter jobs belong to the helicopter crews and smokejumpers. These firemen specialize in helicopter operations, which deliver crews by rappelling to fires unreachable by other means. The aircraft can also dump fire retardant or water on the fire itself, storing it in a tank and releasing it as it flies overhead. Smokejumpers generally have experience in other crews and are specially trained to parachute into burning areas from fixed wing aircraft.
All the different wildland firefighter jobs must be coordinated for a successful suppression effort. The main focus is protection of life and then property; due to the hazards of fighting wildfires, accidents and tragedies sometimes occur. Continued safety training and updated technology in both fighting and detecting fires before they spread helps protect firefighters as they work.
Wildland firefighter jobs are classified as arduous, meaning physical fitness levels should be high; they often will lift heavy objects such as large hoses and tools. They will need competent outdoor skills such as reading a compass or topographical map, tying knots and chopping down trees, and pitching tents. Most of this work is done wearing heavy boots and protective gear such as coats, gloves and oxygen bottles. First aid and cardiopulmonary resuscitation (CPR) skills are highly desirable, especially for remote crews.
Those interested in seeking wildland firefighter jobs should prepare for outdoor work in less-than-ideal conditions. Most national forestry organizations hire both temporary and permanent crew members in the summer, typically looking for candidates who already have established skills. Those with experience have a better chance of obtaining a permanent position.