What are the Different Types of Wet Room Shower Screens?
Choosing the best wet room shower screen depends on the homeowner's design style, the layout of the wet room, and the function the screen will perform. In some rooms, people choose modesty screens that have etched or tinted glass, whereas in other designs the builder may use clear glass. Another consideration is the cost, which can vary from moderate for thinner, plain panels or expensive for curved panels or custom designs.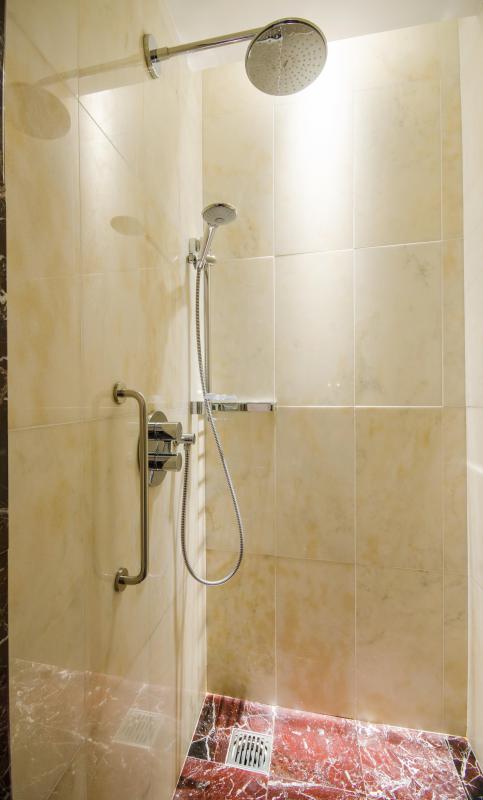 A wet room is a bathroom feature that is consists of a waterproof shower room that is level with the bathroom floor. This design typically involves waterproofing the entire room. Generally, wet room shower screens are glass panels that provide privacy and design. In nearly all wet room designs, the entire bathroom is waterproof; therefore a wet room shower screen visually creates a division between the shower area and the rest of the room. There are many different types of wet room shower screens, and a consumer often needs to research what options are available.
The glass panels, or screens, are generally 0.32 inches (8 mm) thick, although they may range from 0.24 to 0.48 inches (6 to 12 mm) thick. Many manufacturers polish and bevel the glass edges as a safety feature. Another important feature to consider is whether the company used safety glass, which is sometimes called tempered or toughened.
Most wet room shower screens are straight panels, but some manufacturers offer curved panels. Other options include sandblasted glass, which is sometimes called frosted or textured glass. Other manufacturers use colored glass, such as smoky gray glass. Typically, frosted or tinted glass panels are called modesty panels.
Wet room shower screens may be part of wet room kits or purchased separately. Some manufacturers offer custom-made screens. Builders and homeowners may order them in non-standard sizes or with custom finishes. Many times a custom screen can reflect an individual's personality.
The wet room screens are very different from the old-style glass shower doors. Generally, wet room shower screens are frameless and appear to be floating glass panels. Hardware is minimal, and often the hardware consists of small pieces of mounting hardware, stabilizing bars, or an optional foot. An adjustable foot helps offset the slope of the flooring while adding support to the heavy glass panel. The new shower screens normally are not the dirt traps that the older shower doors were.
The hardware is usually chrome-plated brass or another chrome-plated metal. Homeowners sometimes can find hardware in other finishes, such as brushed nickel. Typically, the room's design — traditional or contemporary — determines the hardware finish and style.
Although most wet room shower screens are stationary panels, manufacturers offer sliding glass panel doors and hinged door panels. Often they mount the hinged door on a fixed panel, adding to the wet room's airy, light look. Frequently, the builder may order the door assembly with one or two fixed panels.
Most wet room shower screens are straight panels.

Etched or tinted glass is common for shower screens.

Wet rooms often have a minimalist design.