What are the Different Types of Wet Room Flooring?
Wet room flooring typically consists of four separate components needed to ensure proper water drainage. A tray is installed at the floor base followed by a cement-based backing board covered with a waterproof mat. A non-porous and slip-resistant tile, stone, or synthetic surface material is installed over these sub-components to complete the wet room flooring assembly. The most commonly utilized surface materials are porcelain, ceramic, slate, granite, and marble. A synthetic material such as vinyl may also be used for wet room flooring.
The shower area of a wet room is incorporated into the overall floor area and must be gradually sloped towards a central drain. A sloping, preformed tray is typically installed first. Cement-based material is then installed over the tray to provide a sturdy, rot-proof backing surface. A specially designed mat is attached to the backing material to make it completely waterproof. The surface material is then installed over these sub-floor components.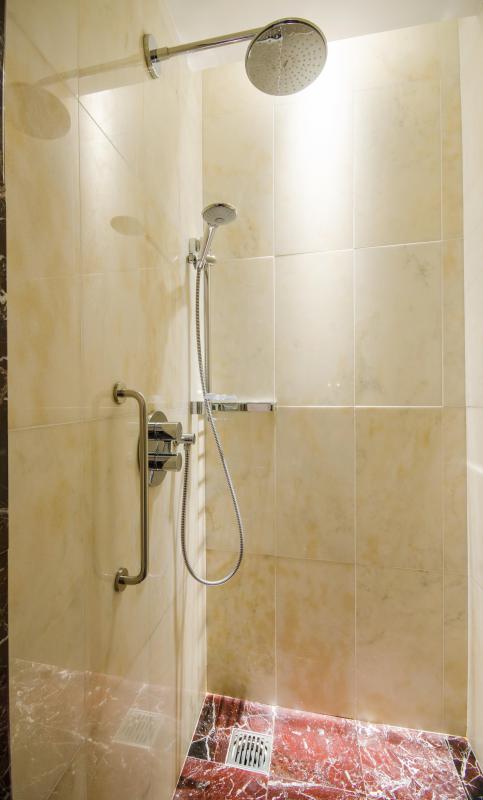 Wet room flooring materials can be composed of several different materials depending on color and style choice. Individual tiles, slabs, or solid-sheet materials may be used for this application. These materials must be non-porous to prevent the growth of dangerous bacteria in the warm, moist environment of a wet room. Specially formulated, anti-bacterial grout should be used for tile applications. Wet room flooring must also provide superior slip-resistance to prevent accidents.
Porcelain and ceramic tiles are the most frequently used material for wet room flooring. This material is typically available in many different sizes and colors and is often utilized for matching walls. These tiles must be rough-textured to prevent slips and falls on the wet floor. Porcelain and ceramic tiles should be installed with narrow joints to prevent leakage. An additional sealant is usually not required for this material.
Natural stone materials such as slate, granite, and marble may also be utilized for a wet room floor. Slate is a durable material with natural slip-resistance and available in several different colors. Granite flooring is generally stain-resistant and also available in many different colors. Marble typically provides a touch of elegance to the room, but polished varieties can be slippery when wet. Natural stone flooring materials are somewhat porous and must be periodically coated with a sealer.
Synthetic materials are also used for wet room flooring and are typically less expensive. Sheet-vinyl is the most common and is available in several colors, designs, and textures. Another synthetic flooring option is a material known as Corian®. This flooring is sold in tile form but requires no grout for installation. Corian® flooring is typically more expensive than other synthetic variants.