What Are the Different Types of Water Aerobics Workouts?
Three general categories of water aerobics workouts exist: strength training workouts, cardio workouts, and mobility workouts. Other sub-categories exist as well, such as workouts for pregnant women and rehabilitation workouts. Strength training workouts are designed to help a person build and tone muscle in any part of the body; cardio workouts elevate one's heart rate for fat burning and overall conditioning; and mobility workouts are meant to improve one's ability to stretch, move efficiently, and reduce the likelihood of injury. Most water aerobics workouts also help a person improve balance.
Pregnant women are often encouraged to take part in a variety of water aerobics workouts because they can help ease lower back pain, a common problem among pregnant women. An exerciser working out in the water is less at risk of injury as well, since water exercises tend to be lower impact than other types of exercises. A woman is less likely to incur a direct impact of any kind, and she is less likely to fall down, which helps keep the baby safer during exercise. water aerobics workouts for pregnant women can be tailored for safety and effectiveness, as well as for pain relief.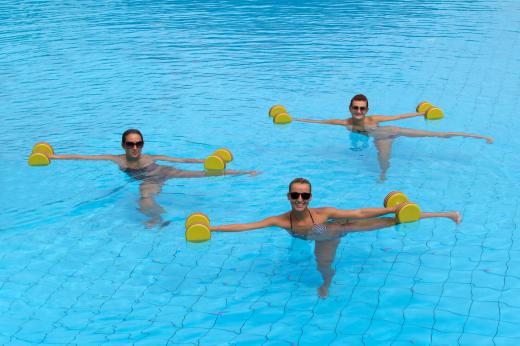 Rehabilitation water aerobics workouts are extremely common among people who have recently been injured. Water provides stability during exercises, allowing an injured person to improve mobility and strength with a built-in safeguard against falls or impacts. The natural resistance of the water allows the person to start building strength in muscles, ligaments, tendons, and so on by providing consistent and often gentle overall resistance.
Strength training exercises are common parts of water aerobics workouts. Crunches, curls, squats, leg lifts, and so on can all be done in the water, taking advantage of the water's natural resistance and stability. These exercises are often recommended for elderly people who need a minimal amount of resistance but a higher level of stability during exercises.
Cardio workouts may involve any number of exercises that raise a person's heart rate. Cross-country skiing motions, running, and walking through water can all increase one's heart rate, thereby providing cardiovascular health and even the ability to burn calories for weight loss.
Mobility workouts include exercises that condition ligaments to move in a variety of directions. Many rehabilitation workouts begin with such exercises, which may include leg lifts and swings. These can be executed by lifting the leg away from the body to the limits of the joint's capabilities, then returning to the starting position and repeating.
AS FEATURED ON:
AS FEATURED ON:

By: american911

Water aerobics is an exercise performed in a pool.

By: LanaK

Some water aerobic workouts may be geared toward pregnant women.

By: marilyn barbone

Water aerobics workouts are a good option for seniors with mobility issues.