What are the Different Types of Trekking Equipment?
The type of trekking equipment one will bring on a trip will depend on what kind of trekking is being done. The equipment necessary for a bicycle trek, for example, will be different than the equipment necessary for a backpacking trek, or for a guided trek. Most people think of trekking poles when they think of trekking equipment, and while this is certainly a very common choice of equipment, it is by no means the most important. Some vital pieces of trekking equipment include sleeping bags, backpacks, water filtration systems, cooking equipment, maps or Global Positioning Systems (GPS), and proper clothing for the climate.
Moisture wicking clothing is perhaps the most important trekking equipment one will need for any type of trek. People will sweat while they hike or bike, and if the weather cools, that sweat can cause one's body temperature to drop. Moisture wicking clothing keeps sweat and other moisture away from the skin, keeping it dry and allowing the body to regulate its temperature more easily. Such clothing is made from synthetic materials, and tends to be more expensive than other materials such as cotton, but the investment will prove itself well worth it in inclement conditions.
Water filtration systems allow a trekker to purify water for drinking. Naturally occurring water sources can be a breeding ground for bacteria, particularly giardia, an organism that can infect the intestines. Water filtration systems allow a trekker to pump water directly from naturally occurring water sources into water bottles after the water has passed through several filters meant to kill most bacteria. It is an indispensable piece of trekking equipment, since regular, filtered water sources are rarely available to people on treks.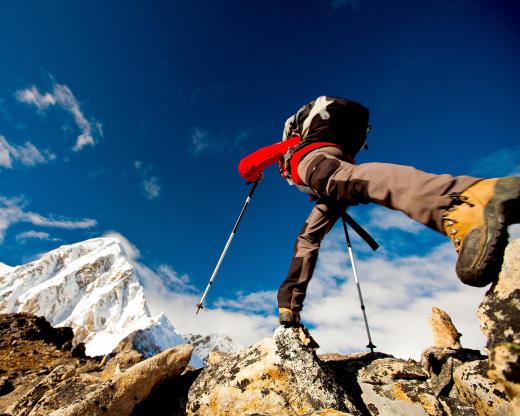 Backpacks or other storage units are vital pieces of trekking equipment for anyone. Bike trekkers will use specially designed pannier packs that mount onto racks affixed to bicycles, while backpackers will carry the backpack on their backs. In either case, the packs should be made from rugged materials that are water resistant or waterproof to protect the contents of the pack. Many packs are made from ripstop nylon that helps prevent tearing during adverse conditions. Backpackers should choose packs that fit their bodies properly, and the packs should feature internal frames made from lightweight aluminum or plastic that helps support the weight of the pack while it is being transported. Many backpacks also feature bladder systems for hydration; the bladders are filled with water and connected to a hose that can be used to deliver water for drinking.
AS FEATURED ON:
AS FEATURED ON:

By: Danicek

Sleeping bags may be included in trekking equipment.

By: Maygutyak

Trekking poles help hikers reduce the strain on their joints.