What Are the Different Types of Trade Show Table Covers?
Trade show table covers help to add a touch of professionalism to any type of trade show exhibit. Covers some in a variety of sizes, shapes and designs, making it possible to create the ideal visual effect that helps to draw people closer to the exhibit. Among the different options for trade show table covers are drapes, covers, and even runners that accentuate the appearance of the space.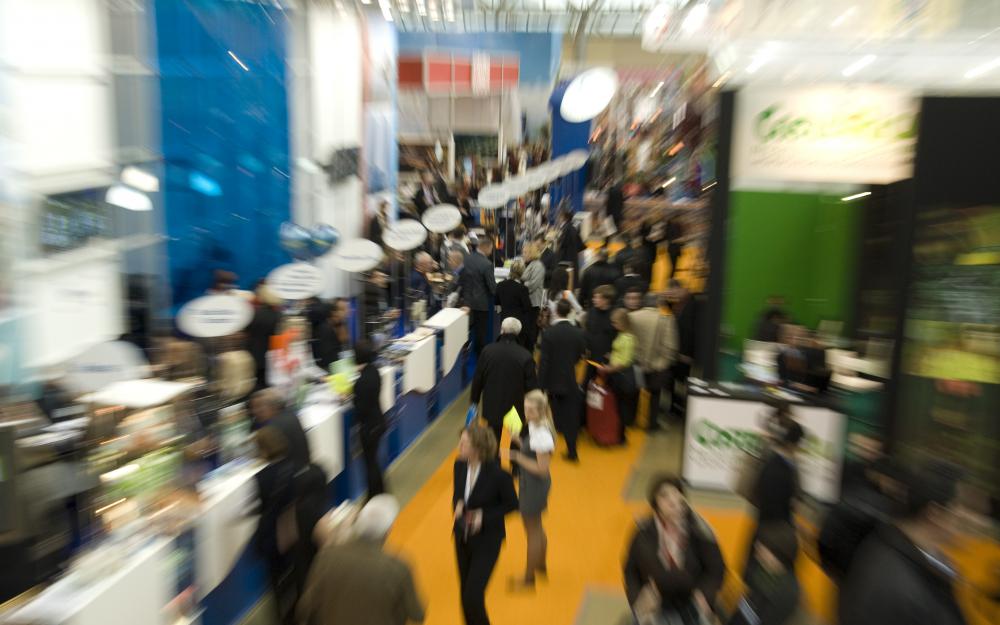 One of the most common types of trade show table covers is the flat cover. This is a simple solution that serves the same function as a tablecloth at home. Available in square, rectangular or round versions, promotional table covers of this type easy to store, and can be put in place in seconds. Some are designed to cover only the top portion of the presentation table, whiles others will cover the table legs as well, a feature that is particularly important if the table in question is a simple folding type that is not particularly attractive.
To go along with the basic table cover, the use of some type of drape or overlay is also a good idea. A winning combination is often a basic cloth that makes use of one of the main colors used in the company's sales collateral or logo, coupled with an overlay or drape in a crisp white or other color used in the company's logo or literature. The contrast helps to catch the eye and draw visitors closer to the exhibit, making it easier to engage those people in conversation.
A third alternative in trade show table covers is the use of runners rather than drapes. Trade show customer table runners provide a splash of color on the table surface, which may help to enhance the display of printed material or other items that are available to people attending the trade show. The runners will may be enhanced with a company logo and positioned in the middle of the table so that the logo hangs down the front of the display area, attracting attention from people as they walk by.
Trade show table covers may be plain in color, or make use of patterns and designs. Many companies produce covers that are customized with company logos. While many covers are made from some type of cloth, it is also possible to purchase fitted versions constructed with other materials.
For example, soft plastic trade show table covers will have much the same appearance of the cloth versions, but offer the benefit of easy cleanup if something is spilled on the covers. In like manner, vinyl fitted versions are also on the market today, making it possible to use a simple folding table to create a display area with very clean lines. Just like the plastic versions, vinyl trade show table covers are easy to keep clean, a factor that can be very important if the show is scheduled to last for several days.