What are the Different Types of Tours in Europe?
European tours are fascinating and varied experiences that can give meaning to every stone, river, and building passed while visiting a historic region. Tours in Europe are an excellent opportunity for adventurers, historians, and simple travel enthusiasts to gain a deeper understanding of the many wonders contained in Europe. There are many different types of tours in Europe, including river tours, train tours, food and wine tours, and even ghost tours.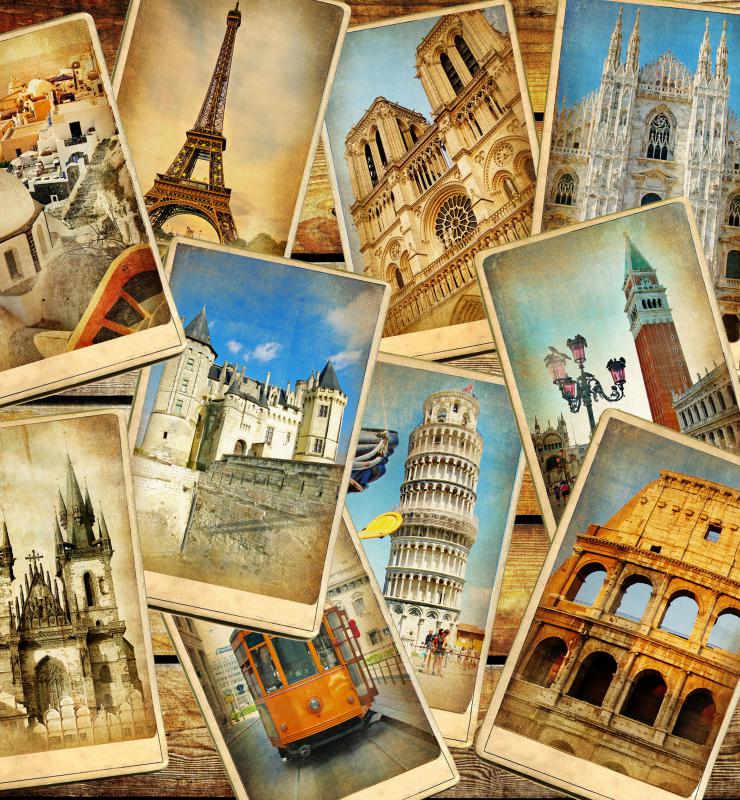 Before railroads and highways crisscrossed the land, waterways and rivers were a major source of culture and commerce. Some tours in Europe take travelers along these ancient watery roads on a journey of exploration and historical revelation. Conducted by boat or cruise ship, river tours are a popular way to visit multiple cities and countries. One of the most popular types of European river tour takes place during the holiday season, when luxury river cruisers transport travelers to the famous Christmas markets that line the Danube. Cruisers can stop in the scenic winter wonderlands of Austria and Germany while hunting down hand-carved nutcrackers and gingerbread baked from centuries-old recipes.
Some travel experts say that the romance and adventure of train tours in Europe cannot be matched by any other traveling experience. The extensive European railway system allows for nearly endless wandering, but some guided train tours allow travelers to explore the detailed delights of specific regions. Switzerland is famous for chocolate tours, which stop in several premier chocolate-producing regions. With the flexible passes available throughout the rail system, it is also perfectly possible to plan a customized itinerary that takes in as many sites as desired.
With the epicurean meccas of Italy, France, and Spain in the area, it may be only natural that food and wine tours in Europe are incredibly popular. Pasta aficionados will find a variety of tour options in Italy, where tour offerings may include cooking lessons with local masters, accommodations in a 17th century villa, and guided visits to local farmer's markets. The wine making tradition of France means that tours can be scheduled not only to suit vacation plans but also by favorite vintages: tours specializing in Champagne or Bordeaux tasting can be easily combined with luxury accommodations, hosted transportation to the vineyards, and perfectly paired dinners.
Boasting rich and dramatic histories, the great cities of Europe are home to a number of interesting tours, including those on a supernatural theme. London ghost walks take visitors on heart-thumping strolls that pass through the footsteps of Jack the Ripper and into the backstage hideouts of the famously haunted Drury Lane theaters. Many castles throughout Europe offer short walking tours that detail the sometimes romantic, sometimes gruesome fates of previous inhabitants. Paris and Vienna even offer fascinating guided tours of the extensive sewer systems below the streets.
By: vencav

Switzerland is famous for chocolate tours.

By: Freesurf

Europe has many famous attractions that are worth visiting.

By: Ian Kirk

There are many different types of tours in Europe, including train tours.

By: fazon

A nighttime tour of Paris may include a stop at the Tour Montparnasse for its unparalleled views of the city.

By: HappyAlex

Many travelers within Europe rely on regional and national airlines that sometimes offer inexpensive fares.

By: ilynx_v

Most of Europe can be easily traveled by bus, airplane, ferry, car, or even on foot.

By: Denis Pepin

Companies in Paris and Rome offer tours that visit traditional farmers' markets and culminate with a collaboratively cooked dinner.