What are the Different Types of Tile Grout Cleaners?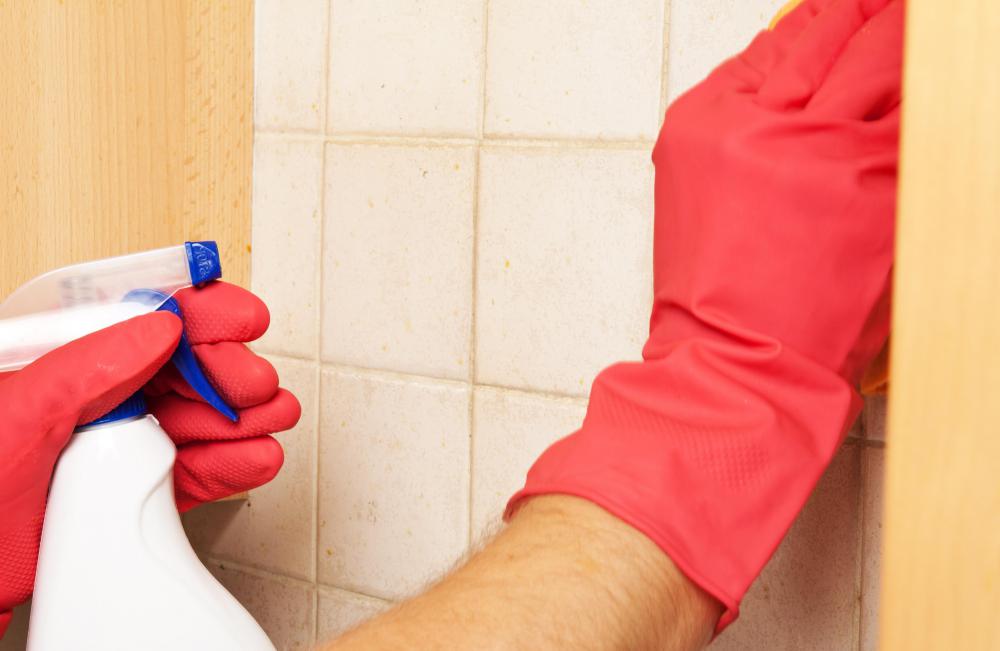 There are many different types of tile grout cleaners, including professional-grade or commercial grout cleaners, and those that can be made from simple ingredients found in the home. Some grout cleaners are considered to be environmentally friendly, made with no hazardous chemicals. There are also biodegradable tile grout cleaners. Other cleansers for cleaning tile grout might contain harsh ingredients such as chemicals that could irritate the skin.
Most tile grout cleaners come in a bottle and are in liquid form, while some are foam based. Some grout cleaners can be purchased in large jugs. For bathroom cleaning or kitchen cleaning, tile grout cleaners are often made to disinfect surfaces as well. Not every grout cleansing solution is made with a disinfectant, so it's important to read the labels.
Mild types of tile grout cleaners are used for lightly soiled tiles. One type that can be prepared at home is a simple solution of vinegar and water. After mixing equal parts of the two ingredients, the solution may be placed in a spray bottle. This mixture can be sprayed directly into the grout and left in place for ten or 15 minutes, allowing it to disinfect. Using a tile cleaning brush, the grime and soap residue should easily be removed.
Another type of mild homemade tile grout cleaner is a baking soda and water mixture. This also can be applied directly to the grout. Using a grout cleaning brush, it may be necessary to scrub to see results. Alternately, lemon juice may work on simple kitchen tile grout stains.
In cases of stubborn tile dirt or mildew, store-bought tile grout cleaners may be necessary. Some may contain chemicals that should not come in contact with the skin. Wearing gloves when applying the cleaner and following the directions on the package are recommended. Most tile grout cleaners should be used in properly ventilated areas.
Some tile grout cleaners are made specifically for various types of tile. For instance, a ceramic tile grout cleanser is made to protect ceramic surfaces. This is because ceramic may be scratched more easily than other tile surfaces. Solutions made from hydrogen peroxide may be one type of ceramic tile grout cleaner. Other types of tile grout cleaners include those made for various surfaces, such as marble or concrete.
In certain cases, a floor-cleaning product may also be used for cleaning tile grout. This does not always work, especially on tiles that are heavily stained. Floor-cleaning solutions that are typically made for cleaning vinyl floors may loosen some forms of tile grout.
There are a variety of types of grout cleaners.

Some grout cleaners are better suited for water issues, such as hard water.

A mixture of baking soda and water can be used as a tile grout cleaner.