What are the Different Types of Theft by Deception?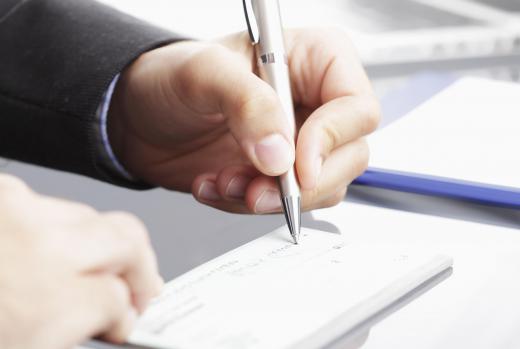 Theft by deception is the intentional use of false information to obtain goods, services, or valuable information from another person or entity. There are many different types of theft by deception, running the gamut from writing bad checks to Internet phishing scams. Businesses and individuals need to be wary of these fraudulent games, as falling victim to this type of theft can result in loss of property or even mortal danger.
Falsifying documents is one common type of theft by deception. This category of fraud-based crime includes the use of unlawful or forged checks, falsifying identification or bank documents, or even using fake references to get preferential rates or access to services not available to the general public. Intentionally writing bad checks or using revoked credit cards are very common examples of this type of theft, though a legal distinction is often made between an honest mistake and an intentional fraud. If the person knew he or she did not have the funds to cover a purchase, yet used checks or credit cards anyway, this is typically considered a form of theft.
Phishing scams are a popular and widespread form of theft by deception over the Internet. These scams involve sending out emails that appear to be from a legitimate company, such as a bank, claiming that the receiver needs to confirm or re-enter account details. In truth, the links in the email take the user to a controlled site, where personal data entered is recorded and used for identity theft. Similar scams may be conducted through the mail or even by phone, with fraudsters often claiming that they represent a legitimate organization in order to get personal details.
Intentionally obscuring information a victim needs to make a rational decision is another form of theft by deception. Ponzi schemes frequently use this tactic, by falsely informing investors that dividends are the result of new investor capitol, rather than investment fund success. If investors were aware that their dividend checks were coming through a rigged scheme, they might refuse to invest. The Bernie Madoff investment scandal of 2008, infamous for being one of the most financially devastating and widespread frauds in history, used a Ponzi scheme form of deceptive theft.
Most types of theft by deception rely on the victim's willingness to accept things at face value. Societal norms typically require people to place some level of trust in others in order to be polite. Nevertheless, caution is incredibly important in preserving personal and asset security from fraud. Validating all documents and claims made by any person or organization attempting to gain control over money, property, or information is the most basic and critical means of avoiding this type of crime.


By: sepy

Writing checks without sufficient funds is a form of theft by deception.

By: diego cervo

Theft by deception includes Ponzi schemes, which use false information to gain investors.

By: tashka2000

Gaining access to someone's personal financial data through phishing scams is a common form of theft by deception.

By: Debbie Torkelson

Intentionally obscuring information that an individual needs to make a rational decision is a form of theft by deception.

By: moshimochi

Victims of identity theft may incur large amounts of debt.