What Are the Different Types of Thanksgiving Cupcakes?
While perhaps not a traditional Thanksgiving element, cupcakes are easy to incorporate into any holiday theme. Thanksgiving-themed cupcakes can be a desert option for family gatherings, taken to children's parties, or simply made as a fun way to celebrate Thanksgiving weekend. There are numerous options for Thanksgiving cupcakes ranging from simple to artistic and time-consuming, but since so many people love cupcakes, it could be time well spent.
Thanksgiving cupcakes could easily be any flavor served after a Thanksgiving meal, but it's possible to get creative. By incorporating any of the traditional colors, themes, or flavors of Thanksgiving into cupcakes, they suddenly have more decadent relevance. Traditional fall colors, such as deep, warm reds, yellows, and oranges are the perfect complement to dark brown chocolate or light buttercream frostings. For simple Thanksgiving cupcakes, sprinkle frosted cupcakes with decorator sprinkles in fall colors and shapes.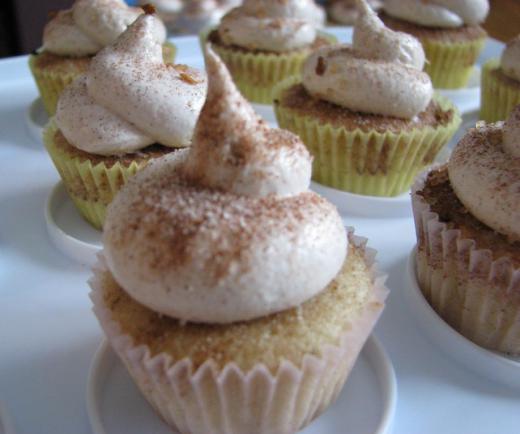 Another quick and easy way to create Thanksgiving-themed cupcakes is to insert decorator picks into frosted cupcakes. Cake supply retailers and craft stores typically sell a variety of inserts suitable for any occasion. Picks are generally made of plastic, and thus washable and reusable. Look for turkeys, pilgrims, cornucopias, or other relevant designs. For the truly ambitious and creative, handmade picks can be crafted to instantly transform plain cupcakes into original Thanksgiving cupcakes.
While slightly more challenging and time-consuming, decorating cupcakes with icing is another option for making Thanksgiving cupcakes. This process requires either existing knowledge of cake decorating or access to instructions. Decorating with icing also requires a variety of tools – including frosting tips and bags. Homemade icing is best for this type of decorating as the consistency must be right for each technique used. There are plenty of resources for learning about cake decorating techniques online, in cake craft stores and even the library. Ideas for Thanksgiving cupcakes can be found online or in cake craft books as well.
The options for cupcakes decorated solely with icing are limited only by imagination and skill level. Beginners might want to start simple and attempt more challenging techniques with practice. Cupcakes can be decorated individually, or aligned on a serving board or platter in rows to form a rectangle, and then decorated as one cake. No matter which decorating technique is used for Thanksgiving cupcakes, experimenting with different cake and frosting flavors, such as pumpkin, pecan, maple, and spice, can add to the overall appeal of the holiday theme.
AS FEATURED ON:
AS FEATURED ON:

Snickerdoodle cupcakes would make an excellent Thanksgiving meal dessert.