What Are the Different Types of Subwoofer Amp Packages?
Due to the large number of subwoofers available, many consumers struggle to put together well-matched subwoofer systems. For people who don't know how to match a subwoofer to an amplifier and other components, subwoofer amp packages provide a good alternative to purchasing separate pieces, since all the components are already matched according to their technical specifications. Additionally, money can be saved by buying a package. Many retailers that sell home and car audio subwoofer amp packages provide a selection of systems to choose from, including high power, do-it-yourself (DIY), and pre-built systems.
The components in a subwoofer amp package are matched to one another according to the root mean square (RMS) wattage, impedance, and frequency response of the subwoofer. The RMS wattage and impedance determine the loudness of the sound, while the frequency response determines its pitch. For people who love loud music and extremely low bass, a high-powered system is a good option. These subwoofer amp packages provide subwoofers and amplifiers with a high RMS wattage, and in some cases, a lower impedance value, such as 1 or 2 ohms. Additionally, the subwoofer might be 12 inches (30.48 cm) or larger in size, allowing it to reproduce lower frequencies.
DIY packages, also called component packages, are commonly available for car audio. These subwoofer amp packages provide a component subwoofer, an amplifier, and the wires required to connect all of the components to one another and the sound source. Some DIY packages also contain additional component speakers, such as mids and tweeters, which reproduce frequencies higher than those produced by the subwoofer. Since the component speakers do not come with enclosures, these must be purchased separately or built from scratch, typically using medium density fiberboard (MDF). DIY packages are suitable for people who want to customize every part of the system and those who require custom enclosures that fit in small spaces, such as the trunk of a car.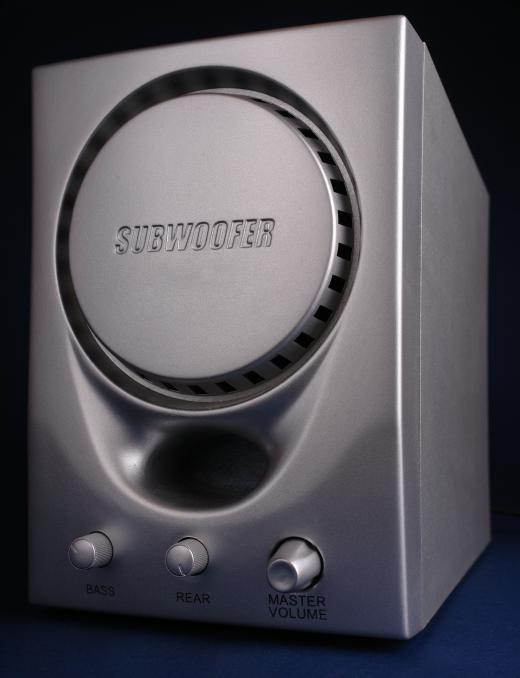 Pre-built subwoofer amp packages provide the same options as DIY packages with the addition of enclosures. Typically, the subwoofers and any other included speakers are already installed in their enclosures. These packages require minimal setup — one must simply put the speakers in their places, connect them to the amplifier with cables or wires, and attach the power supply.
Some DIY and pre-built packages provide two subwoofers for louder mono sound or stereo sound. These packages include a mono, stereo, or multichannel amplifier. When using a mono amplifier, one subwoofer is connected to the amplifier, and the other subwoofer is connected to the first. If a stereo amplifier is provided, each subwoofer is connected to a dedicated channel on the amplifier, while a multichannel amplifier can be used with both subwoofers and additional speakers. When using a multichannel amplifier, the subwoofers can be wired in a mono or stereo configuration according to the technical specifications of the system or the user's preference.
Subwoofer amp packages for home audio are typically pre-built and provide passive and active subwoofer systems. Passive systems come with a separate amplifier unit, while active systems do not — the amplifier is built into the subwoofer or other speakers instead. Some home audio packages provide surround sound and include several speakers that are placed at the front, center, and back of a room. These systems are commonly used in home theaters. The surround sound speakers and subwoofer are connected to an external amplifier unit or the speakers are connected to an amplifier built into the subwoofer.
AS FEATURED ON:
AS FEATURED ON:

A man working on an MDF subwoofer amp enclosure.

By: Roman Milert

Subwoofers are designed to reproduce bass sounds with more clarity than full range speakers.

By: mistiqefilm

Subwoofers may be featured in home theater systems.