What are the Different Types of STD Testing?
Sexually transmitted disease (STD) testing can involve fluid or tissue samples, as well as a physical examination, depending on what a doctor is looking for. Patients concerned about their risks should go over their sexual history with the doctor to determine the most appropriate tests for their needs. Some clinics offer services like confidential STD testing or home testing, for people concerned about privacy.
Blood, urine, and saliva can all be used for STD testing; many infectious organisms will show up in these body fluids, in varying concentrations. This testing is minimally invasive and may be quite rapid, as often the doctor just needs to look under a microscope for signs of bacteria. In the case of viral infections, test results may take longer because some work in the lab is needed to identify viruses or antibodies. If there are concerns about having an antibiotic-resistant bacterial infection, the lab will need to culture the sample and then see which antibiotics it responds to, a process that may take several days.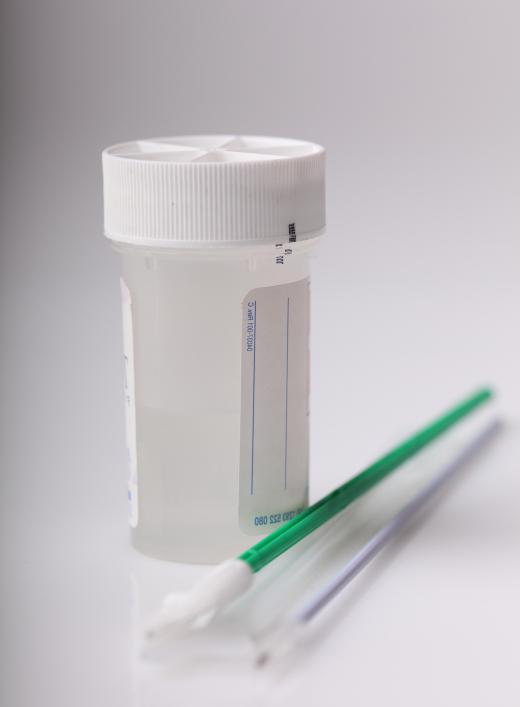 Tissue samples for STD testing can include scrapings from suspicious areas in and around the genitals. These are collected during a physical exam. Most commonly, a doctor takes a scraping from the cervix to check for cellular changes, or from warts or blisters to determine if they are the result of an infection transmitted through sexual activity. Results on tissue samples usually take longer because they require evaluation by a pathologist.
In a physical exam, a doctor can identify clear signs of STDs such as genital warts, if they are present. This is usually the first step in STD testing, to see if there is an obvious diagnosis for symptoms like burning sensations while urinating, itching, or genital pain. Public lice, also known as crabs, can be identified on a physical examination as can issues like scabies, an infection that sometimes passes between sexual partners as a result of close skin-to-skin contact, or sharing infected bedding. The doctor can prescribe a medication right away to treat the problem.
Some care providers prefer the term "sexually transmitted infection," underscoring the fact that people can be infected without showing signs of disease. Many organisms transmitted through sexual contact are known for not causing symptoms immediately or for rarely causing symptoms while still being transmissible, and people who do not have symptoms may still benefit from STD testing to check for presence of infection.
AS FEATURED ON:
AS FEATURED ON:

By: Sven Bähren

A vaginal or cervical swab can be administered to test for certain sexually transmitted diseases in women.

By: jarun011

An STD check may involve the drawing of blood.

By: Syda Productions

Sexually transmitted diseases (STDs) are increasingly referred to as sexually transmitted infections (STIs) by medical professionals.