What Are the Different Types of Squash Casserole?
Squash is a versatile vegetable and many varieties are suitable for use in casseroles. Butternut, yellow and spaghetti squash are used for making a variety of casseroles, including spaghetti squash casserole and butternut squash casserole. Crookneck quash is used to make a variety of casseroles, including country squash casserole. Carrots, sausage and cheese are also commonly used when making these casseroles.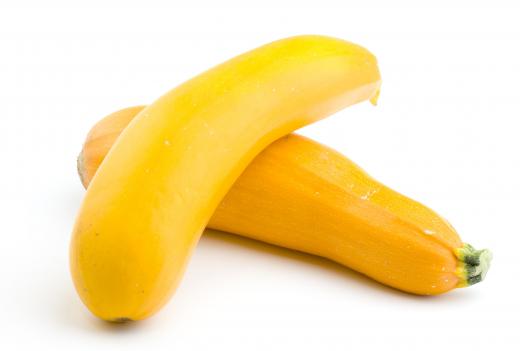 Butternut squash is often featured in casseroles. Granny's butternut casserole is made with sugar, ground cloves and ground cinnamon. It is also seasoned with pumpkin spice, butter and vanilla. Butternut casserole is made with sugar, butter and crushed pineapple. It is seasoned with ground cinnamon, ground nutmeg and chopped walnuts or pecans.
Another common squash used in casserole recipes is spaghetti squash. Spaghetti squash casserole combines squash with onion and sliced mushrooms. It also features broccoli flowers, cottage cheese and grated mozzarella cheese. Spaghetti squash and spinach casserole combines spinach squash with chopped spinach and sliced mushrooms. It also features bean sprouts, chicken gravy mix and shredded mozzarella cheese.
Yellow squash is also well-suited for casserole recipes. Two-cheese casserole features yellow squash, sweet onion and garlic cloves. It also includes soft breadcrumbs, shredded Parmesan cheese and shredded cheddar cheese. The dish is flavored with chopped chives, parsley and sour cream. Squash casserole is made with yellow squash, sharp cheddar cheese and mayonnaise. It is topped with a mixture of crushed crackers and melted butter before cooking.
Cheese is a common ingredient in many recipes for these casseroles. Cheese, squash and corn casserole features green bell peppers, onion and zucchini. It also features tomatoes, chili sauce and hot pepper sauce. Corn and cheddar cheese are added to the dish during the last five minutes of cooking. Cheesy squash casserole features crookneck squash, onion and Colby cheese.
Carrots are often featured in squash recipes. A country squash dish is made with crookneck squash, carrot and onion. It also features cream of chicken soup, sour cream and herb dressing mix. Summer yellow squash casserole features onion, green pepper and cream of chicken soup. It also is made with sour cream, shredded carrots and stuffing mix.
Some types of casseroles featuring squash also include meat, such as sausage and ground beef. Baked squash sausage casserole features yellow squash, hot sauce and bulk sausage. It is flavored with parsley flakes and topped with toasted bread crumbs. Zucchini casserole features hamburger, onion and peeled tomatoes. It also includes zucchini and is topped with buttered bread crumbs and grated cheese.


By: Bert Folsom

Many types of squash casseroles are topped with cheddar cheese.

By: web2000ra

Yellow squash is a key ingredient in most squash casseroles.

By: zigzagmtart

Yellow crookneck squash is a versatile vegetable.

By: Stephanie Frey

Chicken gravy can be used when making squash casserole.

By: mrslevite

Squash casseroles may feature zucchini, ground meat and cheese.

By: Bronwyn Photo

Butternut squash can be baked with ham and potatoes to make a hearty casserole.

By: dream79

Sour cream is a popular ingredient in squash casseroles.