What are the Different Types of Special Education Careers?
There are many different types of special education careers, which are often found in the public schools systems as well as the private sector. Special education careers include jobs as special education teachers and teacher assistants as well as support services for special needs children and adults. Special education teachers can be found in schools for grades pre-kindergarten to 12, and there are college- and university-level positions. These careers focus on a special education curriculum geared toward special needs students.
Special education teachers work with children who have a wide spectrum of disabilities. These can be children in primary or secondary schools as well as sometimes at the college or university level. The special education curriculum is modified to suit the needs of each individual child. The class sizes generally are smaller than classes in traditional classrooms, and there is a higher ratio of teachers to students as well.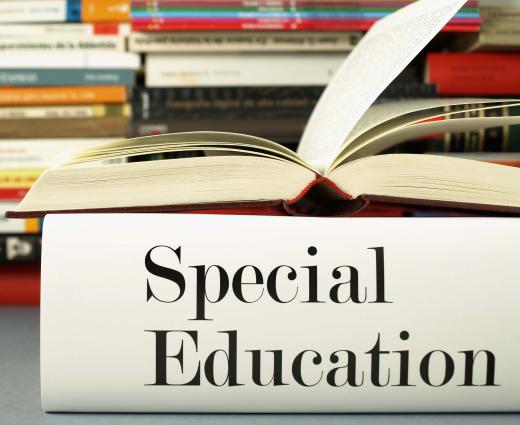 Most special education teachers work with students who have minor to moderate levels of disabilities. There are also teachers who work with students having major cognitive disabilities. These students are taught basic communication skills as well as other life skills individualized to each student.
Special education careers as a teacher include specializing in autism spectrum disorders, in emotional or behavioral disorders, in high-incident disabilities as a resource teacher who works in a co-teaching environment at a traditional classroom setting or in low-incidence disabilities as a teacher working with students who have more severe disabilities. These teaching careers generally require special training and certification as well as an undergraduate degree or higher. There are other types of special education careers that focus on one aspect of a student's disability, such as a speech pathologist who helps students by working on verbal communication, an occupational therapist who helps with functional and developmental areas, a physical therapist who works to improve mobility, an adaptive physical education teacher who helps promote physical exercise adapted to meet the special needs of each child or an art therapist who works using art as a therapy for rehabilitation or development of students.
Careers in special education can offer rewarding experiences and opportunities working with students by providing essential resources. Many colleges and universities offer degrees at the bachelor's, master's and doctoral level as well as credentials or certification. These certification and credential programs are more specific in terms of learning about a specific area within the field of special education. Examples of a specific area of interest would be studying the autism spectrum of disorders or adaptive physical education.
AS FEATURED ON:
AS FEATURED ON:

By: alejandro dans

State education boards typically create the requirements for special education teacher training.

By: pressmaster

Some computer programs may be designed specifically for special education students.

By: Jaren Wicklund

Special education teachers work with children who have a wide spectrum of disabilities.

By: libyphhoto

Special educators may work with students on an individual basis or in a classroom setting.

By: sneksy13

Special educators might help children who have developmental issues.

By: Jaren Wicklund

Students with special needs may have a variety of developmental, emotional and physical disabilities.

By: micromonkey

Special education teachers may work in a kindergarten or pre-kindergarten setting.

By: AVAVA

Special education teachers may have a more challenging time grading assignments.

By: paylessimages

Some special education teachers may work with students who have major cognitive disabilities.