What Are the Different Types of Seafood Salad?
The many salad options that feature fresh seafood are both diverse and unique, combining quality ingredients that increase the nutritional quality of the salad as well as the taste. Fresh lobster, grilled salmon, and canned tuna are common ingredients in a seafood salad. Some seafood salads may be used as a spread for sandwiches, or the fish or other ingredient may be the center piece of the dish resting on a pile of lettuce and other leafy greens. Fresh herbs and spices are also used to compliment the flavor of the seafood, and popular additions like onion, mayonnaise, and egg are also commonly placed in the recipes.
The most common seafood salad, both because of its affordability compared to other fresh and canned fish, as well as its taste, is tuna salad. Fresh tuna can be seared, grilled, pan fried, or baked and then placed over various leafy greens like romaine lettuce, spinach, and arugula. More often than not, canned tuna is used to create a seafood salad which can be used as a spread on bread as sandwiches, even topped with melted cheese, salt, and pepper. The tuna salad sandwich often uses chopped onion, mayonnaise, chopped pickles or relish, and hard boiled eggs as the additional ingredients.
Fresh salmon is often used in salad, and is another popular seafood salad dish. Salmon can be seared, baked, fried, or grilled, and usually tops fresh greens. Tomatoes, croutons, and vinaigrette salad dressings often accompany a salmon salad, and act as compliments to the taste of the salmon itself. Sometimes the addition of another seafood, such as shrimp, may also be added and doesn't usually interfere with the flavor of the salmon. The addition of different herbs and spices, like tarragon, dill, and fish seasoning, can bring out the flavor of the dish even more.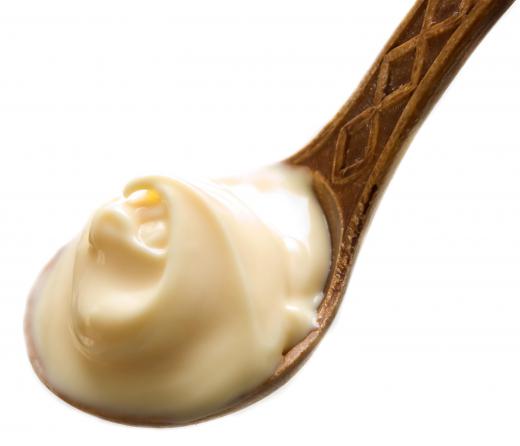 Fresh and cooked lobster meat is also a popular ingredient used in a seafood salad, but not as popular as tuna or salmon due to taste preferences. Diced lobster meat is often placed in a bed of lettuce leaves, with an accompanying creamy dressing. Often the simplest dressing, mayonnaise, is used; however, creamy dressings featuring olive oil, heavy cream, and spices can also be added. Lobster meat can also replace canned tuna in a tuna salad, creating a spread suitable for sandwiches, or one that can be used on crackers as a snack or appetizer.
AS FEATURED ON:
AS FEATURED ON:

Arugula leaves are often served with tuna.

By: Alexandra

Mayonnaise is a common base for a creamy seafood salad.

By: Viktor

Dill is commonly used to season seafood salads.

By: dulsita

Salmon may be included in a seafood salad.

By: SunnyS

Vinaigrette salad dressings often accompany a salmon salad.

By: marilyn barbone

Croutons are frequently added to a seafood salad.

By: Natika

Onions are typically chopped and added to seafood salad.

By: joesayhello

Try an Asian-inspired seafood salad with seared tuna, greens, and a ginger vinaigrette.

By: vpardi

Freshly boiled lobster and prawns are often featured in seafood salads.

By: Maksim Shebeko

A seafood salad can include various types of seafood in one dish.