What Are the Different Types of Seafood Casseroles?
Seafood casseroles feature types of seafood ranging from the ordinary, such as tuna, to the more exotic, such as lobster and shrimp. Some of the main starch ingredients in seafood casseroles include noodles, rice or even mashed potatoes. The combination of ingredients for making seafood casseroles is nearly endless, and most casserole recipes can be modified to suit personal tastes and diet restrictions.
One seafood dish is tuna noodle casserole. The casserole typically features canned tuna, egg noodles and mushroom soup. Optional additions include green peas, cheddar cheese and a crushed potato chip topping. Another take on tuna noodle casserole is to simply substitute rice for the noodles, while the rest of the ingredients remain the same. A variety of vegetables can also be used in seafood casseroles.
Lobster is a commonly-featured ingredient in seafood casseroles. Maine lobster lasagna is made by layering various types of cheeses with Alfredo sauce, baby spinach leaves and cooked lobster meat between lasagna noodles. Seafood lasagna features a mixture of crab meat, small shrimp and dry white wine layered between lasagna noodles. New Brunswick lobster casserole is flavored with mushrooms, shredded Swiss cheese and cooked lobster meat. Lobster tail, crab meat and cashew nuts are the highlights of seafood cashew casserole, which is paired with chow mein noodles.
Quicker-to-make seafood casseroles include salmon macaroni bake, which uses a packaged macaroni and cheese dinner mix. It also features salmon, cream of mushroom soup and Cheddar cheese. Salmon broccoli bake feature wild rice, broccoli and Cheddar cheese. Ingredients for seafood casseroles go beyond rice and noodles and can feature potatoes. Instant mashed potatoes are a main ingredient of speedy salmon casserole. The potatoes are spread in the bottom of a casserole dish, then topped with a combination of salmon, Cheddar cheese and milk.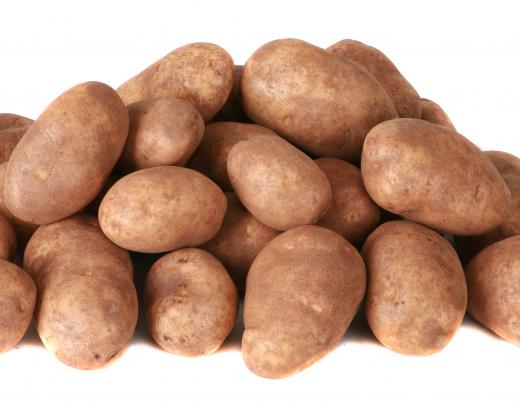 Baked seafood au gratin features a crab meat crust and Parmesan cheese top. In between the two is a blend of shrimp, flounder and scallops. Crab brunch casserole features eggs, cheese and crab meat. Peeled crawfish tails are the featured seafood in crawfish fettuccine, which is flavored with processed cheese food, cream and Cajun seasoning. Shrimp Louisiane casserole combines white rice, shrimp and cream of mushroom soup.
Bacon and wine are used as flavor-enhancers for some seafood casseroles. Billman's clam casserole features minced clams along with bacon and garlic. Seafood imperial casserole features a combination of shrimp, scallops and bacon, and the dish is seasoned with sauteed mushrooms, onion and celery. Maggie's seafood stuffing casserole features crackers mixed with scallops and shrimp, then layered with shrimp simmered in sherry wine or champagne.
AS FEATURED ON:
AS FEATURED ON:

By: sparkia

Bacon is added to many seafood casseroles.

By: Francesco83

Seafood may be featured in lasagna.

By: James Martin

Sometimes seafood casseroles includes instant mashed potatoes.

By: Comugnero Silvana

Baked fish and spinach casserole topped with mornay sauce.

By: vpardi

Lobster and prawns are common ingredients in seafood dishes and casseroles.