What are the Different Types of Round-Toe Shoes?
Round-toe shoes have a slightly rounded front and are designed in many styles, including high-heeled shoes, athletic shoes, and baby shoes. Round-toe shoes are also made from various fabrics and materials, such as canvas, which may be used for casual or everyday wear. Leather and suede shoes may also be made in a round-toe design. Orthopedic shoes may be recommended for individuals with foot problems. Round-toe shoes are made for men, women, infants, and children.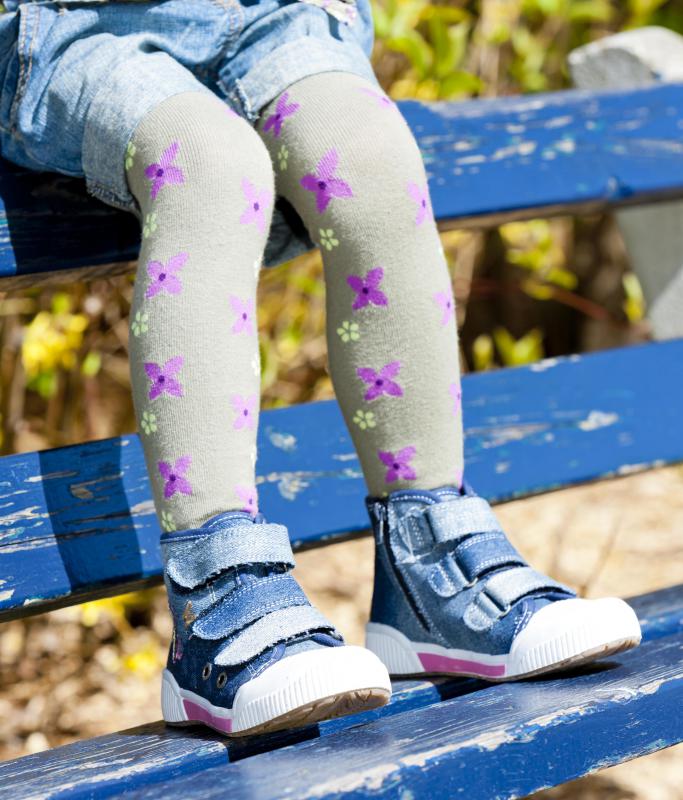 A common style of round-toe shoes for women are called pump shoes. These are typically worn for dress wear and are made with high heels. Pumps are commonly made of leather or patent leather, and occasionally suede. Women often wear pump style shoes with a dress or skirt, although many choose to wear pumps with dress slacks, especially for work.
Slip-on shoes are commonly made for men, women, and children. The slip-on varieties do not have shoelaces, although some are made with Velcro® fasteners. Some of the fasteners included with round-toe, slip-on shoes are hook-and-loop style.
A style of round-toe shoes first introduced around the late 1950s or early 1960s are known as penny loafers. These shoes are typically made of leather and are the slip-on variety. Penny loafers are made with a small slot that is meant to hold a penny or other coin.
Indian moccasins look similar in appearance to penny loafers, although they are generally made of a soft suede material with a hard sole, and do not include a coin slot. Genuine handcrafted Indian moccasins typically feature intricate bead work. All moccasins are made with a rounded toe and are created for men, women, and children.
Many individuals who work in the construction or food industry must wear slip-resistant work shoes or boots. Some round-toe shoes or boots may also have steel toe reinforcement. Some are made with an extra wide round toe for comfort.
A popular style of shoes for little girls are known as Mary Jane shoes. These are round-toe and typically made from leather or patent leather. Mary Jane shoes also feature an ankle strap closure, some with a buckle, button, or bow. Although more commonly worn by young girls, there are styles for women as well.
Casual round-toe shoes for girls and women include ballet style flats. As the name suggests, these shoes have a flat sole and are easy to slip on. These shoes resemble the commonly worn ballet slippers or shoes that dancers wear.
Round-toe sandals may be designed with an open or closed toe and are made for casual wear in warm or moderate weather. Sandals for men, women, and children are most commonly made from leather. Most are flat-soled shoes, although some sandals are made with a heel.
Round-toe shoes include ballet slippers.

Some of the fasteners included with round-toe, slip-on shoes are Velcro.

Athletic shoes are often constructed with rounded toe areas.

Saddle shoes were popular in the 1950s.

Round-toe shoes may be designed as an open-toed shoes.

Many high-heeled shoes are considered round-toe shoes.

Engaging in physical activity without the proper footwear may lead to an increase in injuries.

Mary Janes are round-toe shoes often worn by young girls.