What are the Different Types of Rolling Gates?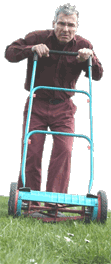 There are many types of rolling gates available. These gates are typically connected to automatic gate openers and allow a gate to move by sliding the gate on a rolling wheel. Rolling gates are available for wood, steel, vinyl, and fabricated gates. They typically come in either a ground roller or slide roller configuration. Rollers are extremely durable and are designed to support both large and small gates.
Rolling gates are most often used in driveways. These gates provide security and easy access for driveway entry. The gates typically slide horizontally to the left and right of the driveway surface. They can be designed to work on remote controls similar to a garage door opener, making entry into the driveway convenient.
A rolling gate can also be used for sidewalks or walkways. This is a smaller version of automatic gate, but provides a means to open a gate similar to a sliding glass door. The gate is typically secured with a standard hitch lock and supported with wheels. Many sidewalk gates include special springs that force the gates to automatically close after they are open.
Gates can be made from steel, wood, or vinyl. The roller gate hardware is designed to be used with most types of gate material. The wheels of the roller are attached to the bottom portion of the gate, which enables the gate to slide on the wheels as it is opened.
Some rolling gates use a special tray-and-hinge design that hides the roller wheel from view. This design typically uses a steel tray that lies horizontally in the middle of the fence door. When the door is opened, the roller wheel moves over the tray area, allowing the door to slide open on a smooth roller surface. This is a good option for fences on grass or rough surfaces because the roller wheel uses a tray rather than the ground for movement.
Most military facilities use large rolling gates to close the entrance areas. This is necessary because of the extreme load requirements of the large concrete doors used in these fences. A military unit uses gravity to close the doorway on rolling wheels.
Large dams also use rolling gates to open and close dam valves. This makes it easier to open and close water gates with heavy water pressure. These gates are typically operated with automated computer systems and can be opened and closed electronically.
Man mowing the grass