What Are the Different Types of RNA Isolation Kits?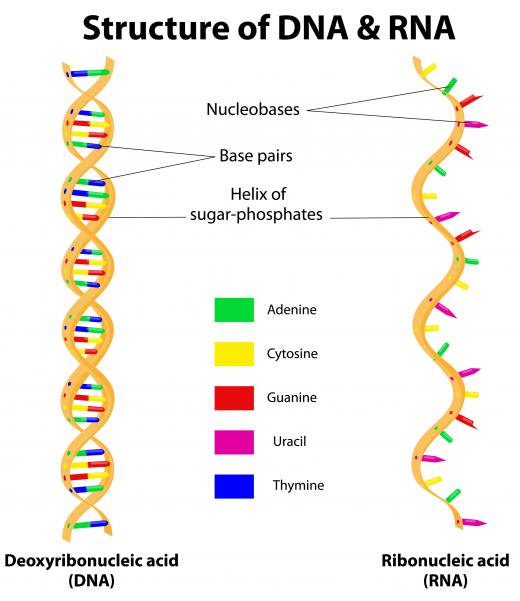 Most ribonucleic acid (RNA) isolation kits can isolate high-quality RNA from a wide range of tissues and types of organisms, including plants, animals and viruses. Mitochondrial and ribosomal RNA — mRNA and rRNA, respectively — may require specialized RNA isolation kits specific for small strands of RNA. Other factors that may differ among various isolation kits are the amount of samples each kit can process and the time it takes to completely process a sample.
The most common types of RNA isolation kits can be used for a large variety of applications, regardless of where the RNA comes from. Mammalian cells and tissues are among the most predominant sources used for RNA isolation and purification. Plant cells and viruses also are used in molecular biology experiments that require the use of an RNA isolation kit.
Once the tissue or blood sample is collected, it must be prepared for RNA isolation during a critical process known as cellular degradation, separation or disruption. If the cellular material is not completed disrupted, the RNA isolation process will produce less RNA. The best RNA isolation kits include materials and supplies for cellular degradation prior to isolation and RNA purification following isolation.
In special cases where an experiment requires mRNA or rRNA, specialized RNA isolation kits are available for RNA strands that are particularly small. The materials and supplies included in such a kit may be different in terms of quantity and size. These RNA isolation kits are less common than the multi-purpose RNA kits, and there may be a substantial cost difference.
Many common RNA isolation kits are designed for use with all types of tissues and cells and can complete a reaction within approximately 20 minutes. The time it takes for complete cellular degradation may vary depending on where in the organism the cells were collected. Beyond the step of cellular degradation, the RNA isolation process and subsequent purification are relatively standard in terms of procedure and time.
Another feature that can be specific to certain kits is the amount of sample required to process the reaction. While some isolation kits may require a relatively large sample volume, other kits may work well with a lesser volume. This difference can be an advantage if the sample volume is a limiting factor.
Several manufacturers of RNA isolation kits have comparison charts available on the Internet. These charts can be used to see the differences between the various kits they produce. The differences can include specialized application types, chemicals and requisite sample volumes.


By: designua

Extracting RNA can involve treatment with enzymes that remove Deoxyribonucleic Acid (DNA) and proteins that may be present in the sample.

By: Eugene Sim

Once a blood sample has been collected, it must be prepared for RNA isolation during a process known as cellular degradation, separation or disruption.