What Are the Different Types of Raspberry Bars? (with pictures)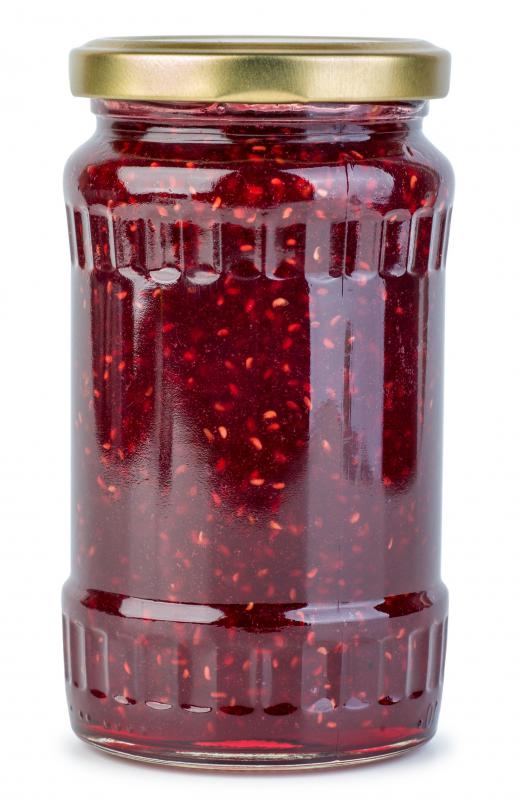 Different types of raspberry bars are plentiful, because raspberries pair well with many ingredients. Chocolate, oatmeal and nuts are often found in raspberry bars. Some recipes call for fresh or frozen berries, but other recipes, such as those of many oatmeal raspberry bars and lemon raspberry bars, get their raspberry flavor from preserves and jams.
Lemon raspberry bars often feature fresh raspberries in a lemon filling sitting on top of a graham cracker crust. The lemon filling is made from egg yolks, fat-free sweetened condensed milk and lemon juice. Raspberry crumb breakfast bars typically feature a whole wheat and cinnamon crust with a raspberry filling in between. The raspberries can be fresh or frozen.
In addition to fresh or frozen raspberries, some bar recipes utilize raspberry jam and preserves. Chocolate raspberry crumb bars feature seedless raspberry jam, semi-sweet chocolate morsels and sweetened condensed milk. Black raspberry bars feature black raspberry seedless preserves spread over a crust of butter, brown sugar and oatmeal. Buttery black raspberry bars are made with seedless black raspberry jam atop a crust of flour, butter and sugar.
Nuts such as pecans and almonds are often included in raspberry bar recipes. Raspberry almond bars feature raspberry jam, chopped almonds and almond extract. Another variety, an almond raspberry diamond, is made with vanilla chips, seedless raspberry jam and sliced almonds that have been toasted. Raspberry pecan bars feature butter, chopped pecans and raspberry preserves.
Raspberries and chocolate are a frequently used, flavorful combination. Holiday red raspberry chocolate bars pair seedless red raspberry jam with semi-sweet chocolate chips and finely chopped pecans. Frozen white chocolate raspberry mousse bars have a graham cracker crust and a filling made from raspberry sorbet, white chocolate and whipping cream.
Some variations of raspberry bars include oatmeal. Raspberry oatmeal bars are made with seedless raspberry jam, light brown sugar and rolled oats. Raspberry ribbon bars are made with rolled oats, chopped walnuts and raisins.
Cake mix is used in some raspberry bar recipes. Raspberry cream cheese bars start off with a raspberry cake mix combined with butter. The mix is topped with a combination of cream cheese, eggs and confectioners' sugar before being baked.
Raspberry jam can be used as an ingredient in some bars.

Some raspberry bars contain rolled oats.