What are the Different Types of Rainwater Storage?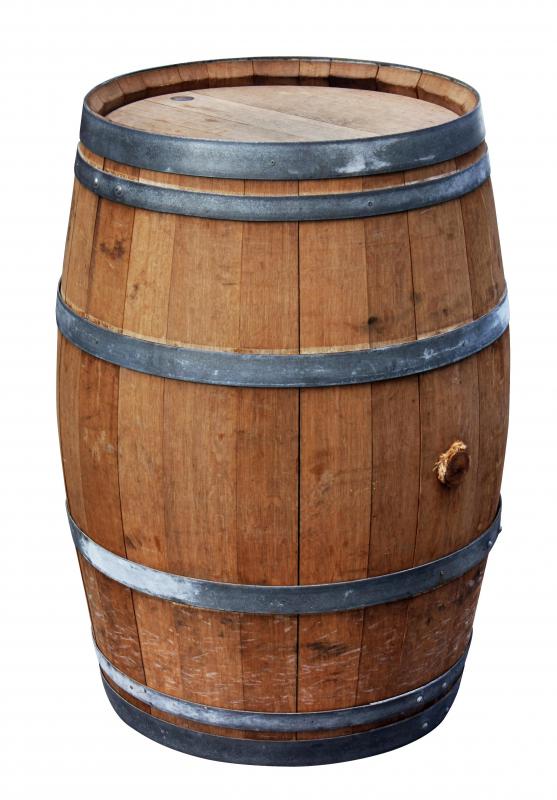 Rainwater harvesting is a popular activity that many people do to save water. Rainwater collection can yield plenty of water for use in the garden as well as in the home. Rainwater storage can be done in wooden rain barrel, rainwater cistern, or any other suitable containment unit.
One of the most common rainwater storage tanks is the polyethylene tank. It is readily available and can be used both above or below ground. Considered one of the least expensive rainwater storage tanks, it is lightweight and durable. Fiberglass tanks are also lightweight, durable, and of a moderate cost. If used for holding drinking water, fiberglass tanks need to include a food grade liner to protect the water from algae growth.
Some people like to use swimming pools for rainwater storage. They are often the most easily accessible containers, and are considered an affordable option. Though they are beneficial for catching large amounts of rainwater, they are not necessarily appropriate for potable water, since they do not contain food grade quality liners.
Wood tanks are a popular choice for harvesting rainwater. They are generally made of pine, cypress, or cedar wood and can be expensive. Above ground galvanized metal tanks are also readily available. Both metal and wood tanks need interior liners if used for drinking water and can usually be disassembled for transportation.
Concrete containers are considered to be the most versatile for use. They can be easily integrated into a structure, but can leak if used underground. Ferrocement, a steel and mortar hybrid material, is a low-cost and long-lasting material used for rainwater storage containers. These containers usually are built with a chicken wire framework base and can sometimes be toxic.
Though expensive, stone and mason tanks have an aesthetic appeal that some people prefer. They are also known for keeping water cooler than other storage containers. Like ferrocement tanks, they can contain toxic substances and should be tested to prevent such chemicals from mixing in with the rainwater.
Different rainwater storage tank sizes and shapes are available to suit most needs. When purchasing a rainwater storage container, a person should keep his or her local precipitation, average dry spells, budget, and personal preferences in mind. While large containers are suitable for areas with copious amounts of rainfall, smaller containers may be preferable for locations where water is sparse.
By: Brad Pict

A wooden barrel can be used to collect rainwater.

By: Okea

Rainwater harvesting prevents rain from simply running into a drainage system and instead saves it for later use.