What Are the Different Types of Public Relations Career Opportunities?
There are a wide range of public relations career opportunities, including representatives, spokespeople, account managers, and press secretaries. Each of these positions carries a similar role within an organization, and different names may be given in different types of businesses. In larger public relations firms there may be even more positions. Owners, directors, and accountants all may work in a public relations firm to keep the business running smoothly, although these positions are not as closely related to actual public relations work.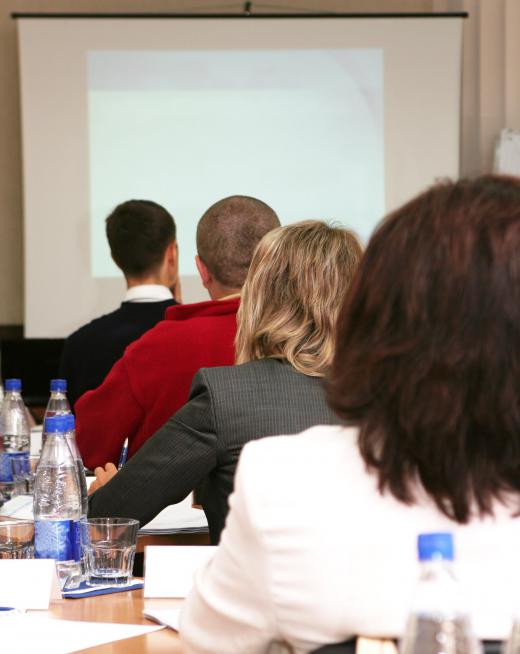 Many public relations career opportunities involve working directly with clients and planning their media campaigns. Duties may include writing press releases, coordinating press meetings, and other activities used to publicize a person or company. Some jobs also involve public image consulting. This means that a professional would direct and advise someone on how to act, speak, or dress during media interviews and similar functions so that he or she gives the right impression.
Other public relations career opportunities include that of spokesperson or press secretary. Press secretaries are most common in government sectors, and they typically arrange media events and press conferences for officials. A spokesperson is someone who works directly for a business, or sometimes as an independent contractor, to speak on behalf of the organization. They may give speeches, hold conferences with the media to make announcements or answer questions, or they even may give endorsements for a particular product or service in advertising campaigns.
Some may take advantage of public relations career opportunities that are indirectly related to the field. Those working firms dedicated to public relations tasks as accountants, secretaries, and planners are examples. There are also professionals who are responsible for acquiring new clients for the firms and making presentations on how the company could help these clients' public images and reputations. Another career opportunity is that of the independent professional who handles all of these tasks themselves to serve private clients.
In order to take advantage of public relations career opportunities it is usually necessary to obtain a four year college degree. Majors should usually be in communications, advertising, public relations, or journalism. Those who do not have a degree in one of these majors may still do public relations work if they have a proven ability to perform related tasks, or if they will be working as a self employed individual. Each company may have its own requirements for those looking for employment opportunities.


By: picsfive

Some public relations jobs entail acting as an organization's spokesperson.

By: Dmitry Goygel-Sokol

Some public relations experts travel and give seminars to professionals.

By: Tissiana Kelley

A public relations director is responsible for directing a team working on public relations for a client.

By: Africa Studio

Public relations professionals may speak to groups of investors on behalf of a company.