What Are the Different Types of Petroleum Industry Jobs?
The petroleum industry is an important part of the modern economy, helping to bring products such as crude oil and gasoline to the world market. Many different occupations play a part in this large area of commerce. Petroleum industry jobs are divided into several major specialties, each with different educational prerequisites and job duties. A large number of petroleum jobs employ workers in the field as laborers or equipment operators. Engineers and technicians are also important in this industry, while geoscientists provide valuable insight as well.
Field workers fill a large percentage of petroleum industry jobs. Workers in this specialty deal directly with drilling equipment, including land-based oil derricks and ocean drilling platforms. This area of employment provides many entry-level jobs for laborers. Field employees must have physical stamina and be willing to work outdoors in a variety of weather conditions. A high school diploma is often the minimum requirement for these types of petroleum industry jobs, and many oil companies provide direct on the job training for workers.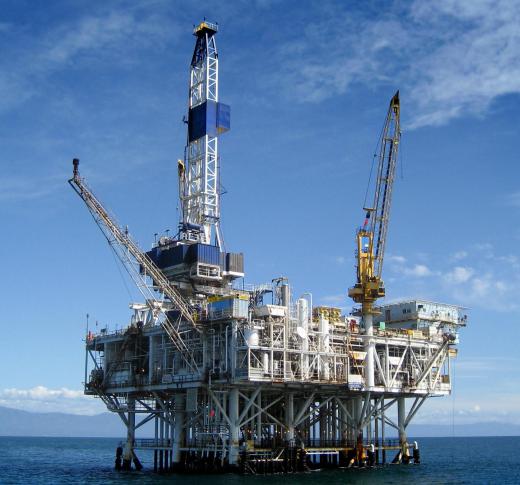 Petroleum equipment operators also work in the field, but usually have more experience in controlling complex machinery. Some operators are responsible for supervising other workers, and some employees are promoted to this type of job after gaining training as field laborers. Many of the requirements for operational employees can be gained directly through hands-on experience. A high school diploma is usually the only educational prerequisite, though many equipment operators enter the petroleum industry after attending college or a trade school.
Engineers and technicians typically have higher levels of education than workers in field jobs. Many petroleum engineers are involved in designing and testing new petroleum extraction equipment, while technicians perform maintenance and inspection duties. These types of employees operate both in the field and in offices. A four-year college degree is usually required for engineering or technician petroleum industry jobs. Some employees enter the industry as technicians, and advance to engineering positions after obtaining a more advanced degree.
The responsibility of locating profitable drilling sites belongs to geoscientists. Experts in these jobs deal mainly with information and raw data, which must be carefully analyzed. Individuals in geoscientist positions use sensitive instruments and mathematical calculations to predict where petroleum is located. Scientific petroleum industry jobs usually require an advanced college degree. While scientists in the oil industry visit field locations to perform measurements, this type of work is not as physically demanding as many other petroleum jobs.
AS FEATURED ON:
AS FEATURED ON:

By: eyeidea

An offshore oil platform needs engineers, a maintenance crew, operations personnel, and many other workers.

By: lightmoon

An oil well drill rig. There are many different jobs on an oil rig.

By: Syda Productions

Many oil companies provide direct on the job training for workers.

By: auremar

Many petroleum engineers are involved in designing and testing new petroleum extraction equipment.

By: Kovalenko Inna

Operators and crew of oil rigs and tankers make up part of the petroleum industry.