What Are the Different Types of Organizational Leadership Jobs?
Typically, organizational leadership jobs are vision oriented to develop comprehensive initiatives across different operational areas within a company. Generally, people in organizational leadership jobs demonstrate foresight in strategic planning to meet business goals and objectives. One example is a human resources (HR) director who develops a workforce strategy that aligns with the business strategy. Another example is executive management positions, such as the Chief Executive Officer (CEO), typically charged with guiding the entire company. A person who leads a department, such as an operations manager, might oversee daily functions of the business.
Jobs related to organizational leadership are typically found in several different types of companies. Nongovernmental organizations (NGOs) may employ organizational leaders as administrators and fundraising experts. Private sector jobs generally include people who work as organizational change professionals and senior executives. Employment with government agencies might consist of jobs such as department directors or policy analysts.
Generally, organizational leadership jobs are not job-title specific, regardless of the place of employment. Rather, jobs relate to leadership roles and responsibilities within the company necessary to accomplish strategic goals and objectives. Often, a person in this role demonstrates business leadership and organizational management abilities to move a company forward effectively. Accomplishing these tasks may require organizational leadership jobs that encompass different areas of business such as HR and executive management.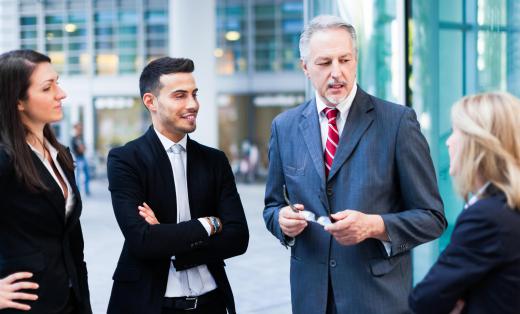 For example, HR directors may fulfill the organizational leadership role through collaboration with department heads and senior management. This may involve developing a strategic plan for human resource functions that correlate with the overall company strategy. Such functions may relate to recruitment, hiring, and training that are typically in sync with company goals and objectives.
Functions for HR directors normally involve leading initiatives that impact human capital decisions. Such initiatives may include training and development programs that can enhance employee skills. Other initiatives might focus on the recruitment process to increase the company's competitiveness for hiring top talent.
Additional organizational leadership jobs could be the CEO who usually has the overall responsibility for ensuring the company's success. Typically, leadership responsibilities for CEOs include being the visionary and decision-maker in identifying the best solutions to organizational problems. Most devise short and long-term business objectives for the company on strategic planning to bring the vision into fruition. In addition, CEOs may develop working relationships with subordinates to coordinate strategies and actions necessary to implement the objectives.
For the operations manager, leading a department may also require decision-making abilities that determine effective departmental policies and procedures. Often decisions for the operations manager are centered on establishing staffing levels to ensure the department fulfills production demands. In addition, many operations managers lead departments by communicating to the staff plans for executing established processes.
AS FEATURED ON:
AS FEATURED ON:

By: Monkey Business

Jobs related to organizational leadership are typically found in several different types of companies.

By: Minerva Studio

Good leaders demonstrate business organizational skills that move a company forward in meeting objectives.